Iraq
Lebanon
Middle East
Lebanese Media: Hashd Al-Shaabi Base in Amerli Attacked by Zionist Regime's Fighter Jet
Lebanese media outlets reported that the positions of Hashd al-Shaabi (Iraqi popular forces) in Salahuddin province were attacked on Friday by an Israeli fighter jet.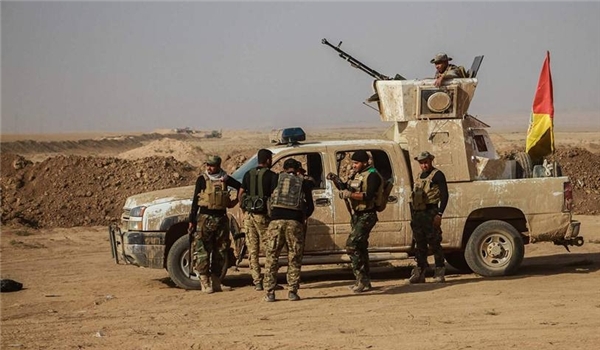 The Arabic-language al-Ahd news website quoted informed security sources as saying on Sunday that Hashd al-Shaabi positions were targeted by three Israeli Harop missiles, 'Loitering Munition', which weight 23kg, are mounted on a flying object and explode when hitting the target.
It added that these warheads can be controlled remotely and their range is 1,000km.
"Only Israel is in possession of this type of weapons in the Middle-East," al-Ahd reported.
Informed security sources told al-Ahd that the Israeli F-16 fighter jets infiltrated into Southeastern al-Ratbah in al-Anbar province over the Baghdad-Amman and Baghdad-Damascus international road and fired the warheads.
Earlier reports said that an unmanned drone had on Friday bombed a base operating by Hashd al-Shaabi in Iraq with sources saying two people were wounded.
"The Al-Shuhada base of the Hashed al-Shaabi in the Amerli region was hit at dawn… by an unidentified drone, wounding two people," the Iraqi military said in a statement on Friday.
Meantime, a spokesman for Iraq's Hashd al-Shaabi forces dismissed media claims that the Iranian military advisors had been killed in a recent drone attack against Amerli base, located in the Tuz Khurmatu district of Northern Iraq's Salahuddin province.
"Opposite to what the biased media said, no advisors or IRGC (Islamic Revolution Guards Corps) forces have been killed," Ali al-Hosseini was quoted by the Arabic-language Baghdad al-Youm news website as saying on Saturday.
Also, the Arabic-language al-Etejah news channel quoted special sources in Nineveh province as saying that before the Friday attack against the Hashd al-Shaabi base in Amerli, a US spy plane conducted reconnaissance operations against the Hashd al-Shaabi and Iraqi army forces in the region.
The source said that the spy plane carried out reconnaissance operations over Sanjar mountain and the Southern areas of the region.
"The US flew B350 plane that is picked for mission by the US intelligence services for air surveillance and is equipped with advanced vision systems. It can also carry 5 to 7 people," he added.