Lebanon
Lebanese security forces clash with anti-us protesters, one killed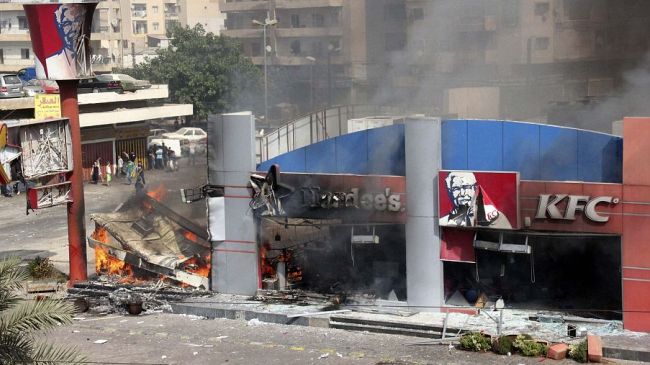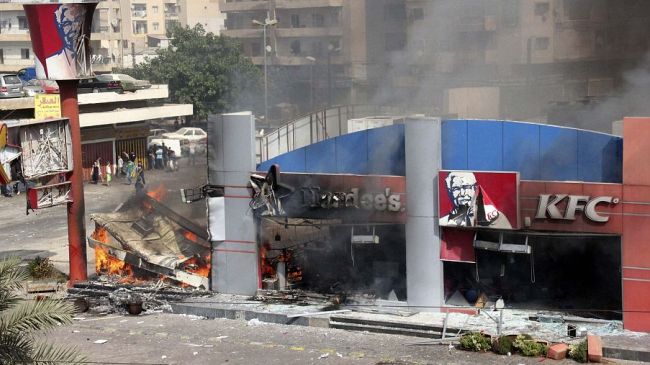 One person has been killed and 25 others injured as Lebanese security forces clash with demonstrators protesting against an anti-Islam movie in the northern city of Tripoli.
Clashes broke out On Friday after hundreds of Lebanese attacked and torched a Hardee's and a Kentucky Fried Chicken (KFC) fast food outlet in Tripoli in response to the sacrilegious movie which insults Islam's Prophet Muhammad (PBUH).
Police dispersed the protesters using tear gas and firing warning shots. Five policemen are reported to be among the injured.
There are also reports of anti-US protests in the southern Lebanese city of Sidon.
The rallies come as Pope Benedict XVI arrived in Lebanon for a three-day visit, calling for Christian-Muslim coexistence.
The insulting movie, which is made by an Israeli-American, has sparked protests across the Muslim world. Protesters have staged anti-US rallies in several countries, including Bahrain, Saudi Arabia, Iran, Pakistan, India, Sudan, Afghanistan and Pakistan.
The sacrilege movie, named Innocence of Muslims, is financed by more than 100 Zionists.