Lebanon
Lebanese Speaker Praises Iran's Support for Lebanon's Resistance against Israel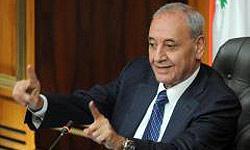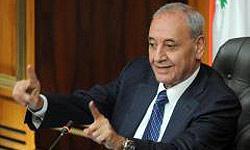 Lebanese Parliament Speaker Nabih Berri lauded the Islamic Republic of Iran's support for the people and government of Lebanon in their resistance against the Zionist regime during the 33-day war in 2006.
Berri made the remarks in a meeting with Iranian Ambassador to Beirut Qazanfar Roknabadi on Friday who conveyed a message of Iranian Parliament Speaker Ali Larijani to Berri.
Larijani in his message congratulated his Lebanese counterpart on the sixth anniversary of the defeat of the Zionist regime in the 33-day war.
Undoubtedly, this great victory achieved by the Islamic resistance, people's persistence and the unity of all groups and factions will pave the ground for greater victories, Larijani said in his message to Berri.
The Lebanese parliament speaker, for his part, praised the Islamic Republic's role in supporting the anti-Zionism resistance of the Lebanese nation during the 33-day war.
Also, in separate message to Hezbollah Secretary General Seyed Hassan Nasrallah, Larijani hailed the victory of the Lebanese resistance movement of Hezbollah over the Israeli regime in the 33-day war in 2006 as an embarrassing defeat for Tel Aviv.
The brilliant victory of the resistance movement was the indication of the efficiency of the people's faith and patience against the deadly modern weapons, Larijani said in his message.