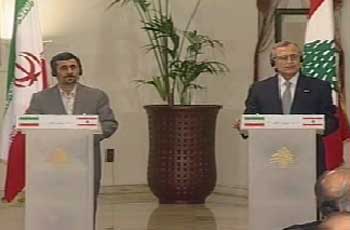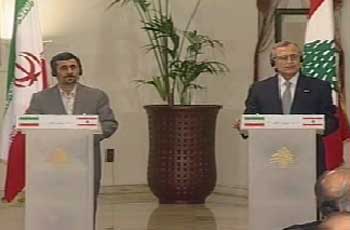 President Mahmoud Ahmadinejad has lavishly praised Lebanon for the country's heroic resistance against the Zionist regime, describing the nation as a source of pride.
The President made the remarks during a joint press conference with his Lebanese counterpart Michel Sleiman on Wednesday, hours after his arrival in the Lebanese capital, Beirut.
He emphasized Iran's common stance with Lebanon against the occupation of Lebanese and Palestinian lands, calling for an end to the Zionist regime's occupation of Lebanese lands.
The Iranian chief executive said both the Islamic Republic of Iran and Lebanon are against the atrocities and crimes committed by the Zionist enemy.
"Today the name of Lebanon and all the Lebanese remind you of pride and dignity as Lebanon is considered a symbol of dignity for all regional nations," President Ahmadinejad said.
Lebanon has changed the regional equations to the benefit of all regional states and this country is the country of rich culture, knowledge and literature, the Iranian president added.
Highlighting Tehran-Beirut amicable relations, the Iranian chief executive called for the expansion of reciprocal ties with the Arab states in various cultural, economic and scientific areas.
Sleiman, for his part, expressed gratitude for Iran's unconditional and continued support for Lebanon against Israeli threats.
According to the Lebanese president, Iran and Lebanon have enjoyed unique ties throughout history.