Middle East
Lebanon parl. speaker raps Israeli violations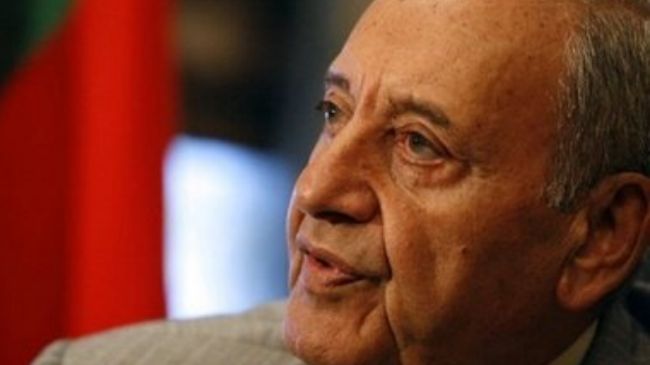 Lebanon's Parliament Speaker Nabih Berri has condemned Israel's violations of the Arab country's sovereignty, calling on the government to file a complaint with the UN Security Council against Tel Aviv.
Berri said in an interview with Lebanon's As-Safir daily on Monday that the Lebanese Foreign Ministry should file the complaint with the UN Security Council over the Israeli military's recent violation.
Israeli forces crossed the Blue Line in the al-Labbouneh border area on Sunday and uprooted trees to have a Lebanese army checkpoint exposed.
Berri described the move as "blatant," saying the violation took place "while the international forces "did nothing to stop them."
He also threatened to suspend the tripartite meetings between Lebanese, the Israeli officials and the UN Interim Force in Lebanon (UNIFIL) if Tel Aviv continues the violation of the Lebanese sovereignty.
"These meetings have no meaning anymore and they must be stopped amid the ongoing Israeli violations," he added.
The meetings are regularly held at the UN headquarters at al-Naqoura crossing to discuss Israel's air and ground violations of Lebanon's territory.
Israel violates Lebanon's airspace on an almost daily basis, claiming the flights serve surveillance purposes. Lebanon's government, Hezbollah, and the UNIFIL, have repeatedly condemned the Israeli over-flights, saying they are in clear violation of UN Resolution 1701 and the Lebanese sovereignty.
The UN Security Council Resolution 1701, which brokered a ceasefire in the war Israel launched on Lebanon in 2006, calls on Tel Aviv to respect Lebanon's sovereignty and territorial integrity.
In 2009, Lebanon filed a complaint with the United Nations, presenting over 7,000 documents pertaining to Israeli violations of the Lebanese territory.