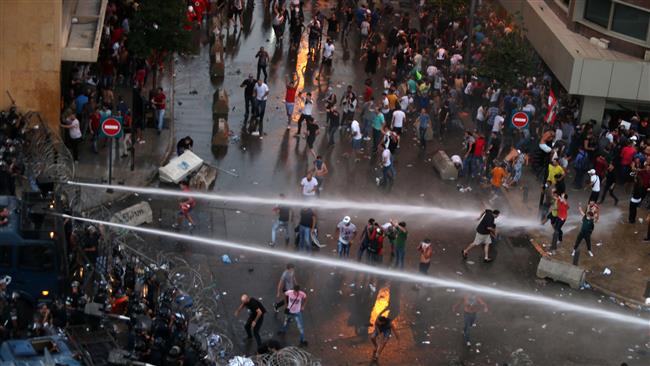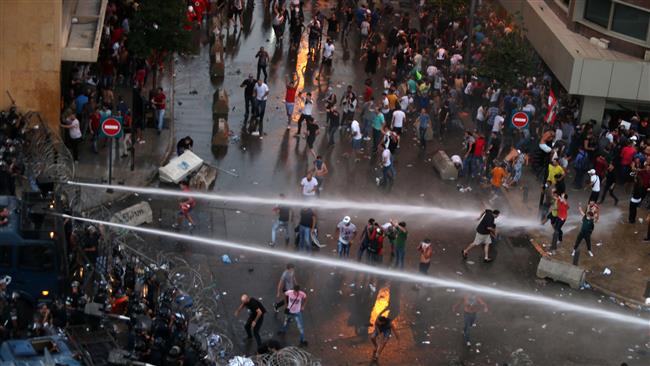 Lebanon's state prosecutor has ordered a probe into Saturday's violent clashes in the capital between protesters and police over a growing trash crisis, amid continuing protests in downtown Beirut.  
Samir Hammoud ordered top military prosecutor Sakr Sakr on Sunday to open an inquiry into the Beirut clashes which left 110 injured.
Hammoud also asked medics to examine those injured in the incident and submit a detailed report.
Prime Minister Tammam Salam said on Sunday that he stood "with the people and with the citizens" who were protesting over the country's trash crisis, and criticized security forces for applying  "excessive force" against them.
He said he would indict those "responsible" for using "excessive force against civil society and against the people."
Clashes continuing
Meanwhile, protesters defied police forces and demonstrated again in Beirut on Sunday, demanding that the government take immediate measures to gather the garbage that has been accumulating on the streets of the capital since July 17.
Police on deployed teargas and water cannon after clashes broke out during protests in the streets of Beirut. At least five people were reportedly injured in the violence.
Beirut's main landfill has been closed down, leaving the city and its suburbs in a state of limbo. Garbage from Beirut used to be disposed at the Naameh landfill in the mountainous region southeast of the capital.
Since its closure, garbage collectors have stopped taking the garbage away, saying they have no place to dispose it.
The stench of uncollected garbage has filled the streets of Beirut, prompting the country's Health Ministry to warn that the country will be on the brink of a "major health disaster" if the problem is not resolved rapidly.