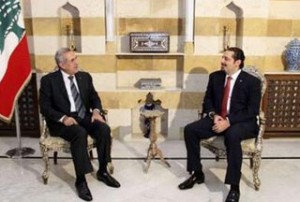 Lebanese Prime Minister Saad Hariri has announced a new government of national unity after more than four months of negations with opposition leaders.
Hariri announced the 30-member cabinet that includes 15 ministers from his "March 14" bloc and 10 from the opposition parties, AFP reported.
"Finally, a government of national unity is born," Hariri told reporters after the decree was made public on Monday.
The remaining five ministers were appointed by President Michel Sleiman, including the holders of the key interior and defense portfolios.
"This cabinet will either be a chance for Lebanon to renew trust in its institutions, or it will be a stage where Lebanese will repeat their failure in achieving agreement," the premier added.
The Hezbollah resistance movement has also two ministers in the new cabinet.