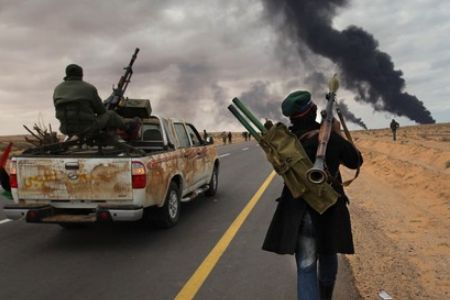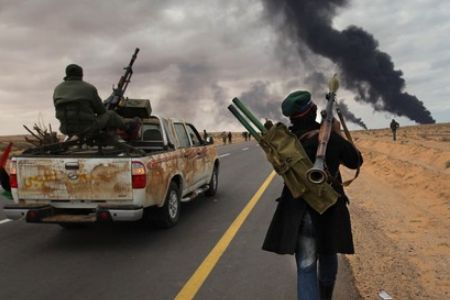 Latest reports say armed Libya's opposition forces are engaged in heavy fighting with government forces in the cities of Ben Jawad, Ras Lanuf and Zawiyah.
Revolutionary forces say they have advanced into the town of Ben Jawad in the east.
The opposition also asserts that they have destroyed five tanks belonging to government forces, as heavy air strikes continued against them.
Forces loyal to embattled Libyan ruler Muammar Gaddafi have also kept up their pressure on the western town of Zawiyah to retake it from revolutionary forces.
They regime forces used tanks to shell the city while deploying snipers to shoot the protesters.
The fighting has also forced the shutdown of the city's refinery.
Meanwhile, the oil-rich city of Ras Lanuf is under heavy air strikes by Gaddafi's warplanes.
A huge flame –leaping hundreds of meters into the sky — has been reported in the city's oil facility.
A latest report published by Libyan Human Rights League says a brutal crackdown by the regime on opposition protests that began two weeks ago has left an estimated 6,000 people dead so far.
Colonel Gaddafi has been in power since a blood-less military coup in 1969.
In a separate development, Gaddafi claims Western countries intend to seize control of the oil reserve in the North African country.
"If they take such a decision [to impose a no-fly zone], it will be useful for Libya, because the Libyan people will see the truth, that what they want is to take control of Libya and to steal their oil," Col Gaddafi said in an interview with Turkish TRT TV.