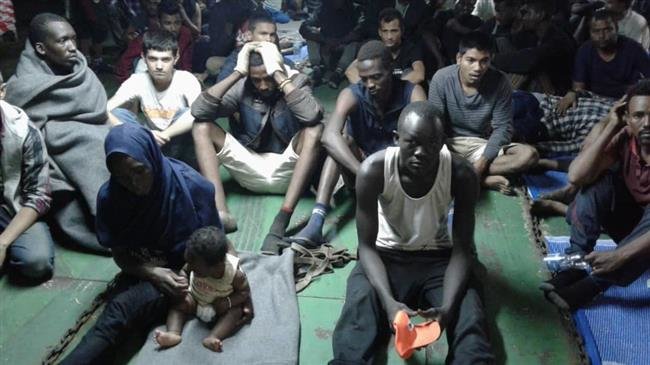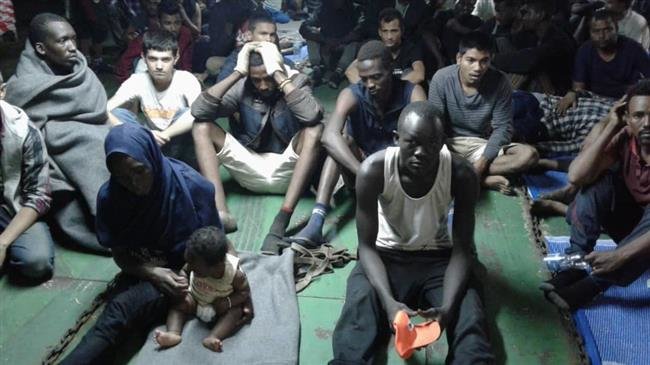 Libyan coast guards have raided a cargo ship and forcibly evicted dozens of desperate refugees from the vessel, which had rescued them off the Libyan coast ten days ago.
Coast guards used robber bullets and tear gas on Tuesday to remove 90 refugees from a Panama-flagged "Nivin" vehicles carrier that had rescued them as their boat began sinking and docked in the port of Misrata.
The refugees, mostly from sub-Saharan Africa and South Asia, who sought to reach Europe via the Mediterranean Sea, were refusing to leave the ship.
"A joint force raided the cargo ship and used rubber bullets and tear gas to force [them off the ship]," Reuters quoted the commander of the central region coastguards, Tawfiq Esskair, as saying on Tuesday.
The commander said some of them had been wounded during the eviction but were now "in good condition" after treatment in hospital.
They have now been taken to a detention center in the city, according to Esskair.
Rights groups had already warned against taking the refugees to detention centers, where they are reportedly held in dire conditions.
Stranded on the cargo ship, refugees were pleading to be taken to Europe.
Libya's western coast is the main departure point for asylum seekers attempting to reach Europe. Many refugees have crossed the central Mediterranean to Italy over the past four years as human traffickers took advantage of a security vacuum in Libya after the toppling of its long-time ruler Muammar Gaddafi.
While some of the refugees complained that they were tortured by human traffickers in the North African country, others said they had been through serious abuses in official detention centers.
"How come you want me to leave the ship and stay in Libya?" said a 17 year-old Sudanese asylum seeker earlier this week, according to Reuters. "We agree to go to any place but not Libya."
He said his brother and friend had both died at the hands of smugglers in a smuggling center south of the Libyan capital, Tripoli.
The United Nations (UN) condemned Libya's forced eviction of the refugees, saying in a statement, "The humanitarian community is saddened by the turn of events."
Separately, Human Rights Watch (HRW) called for an investigation into whether "unlawful force" had been used against asylum seekers.
"This is the worst possible conclusion to the desperate plea of the people on board the Nivin to avoid inhuman detention in Libya," said Judith Sunderland, acting deputy director for Europe and Central Asia at HRW.
Amnesty International had on Friday warned against forcing those rescued "to disembark to be taken to a Libyan detention center where they could face torture and other abuse."
The rights organization further explained that "under international law, no-one should be sent to a place where their life is at risk."
A UN report said in 2016 that refugees in Libya "are subjected to arbitrary detention, torture, other ill-treatment, unlawful killings, sexual exploitation, and a host of other human rights abuses."