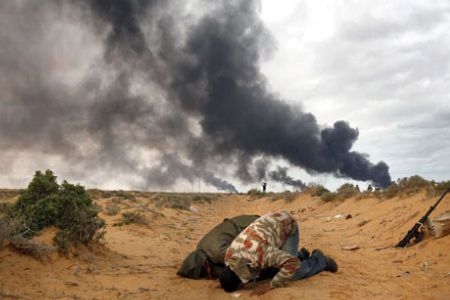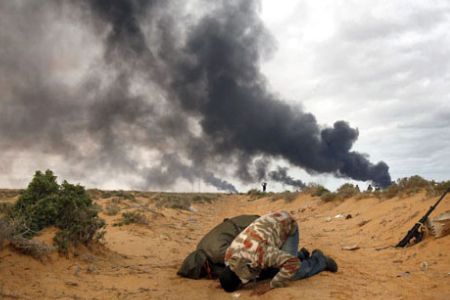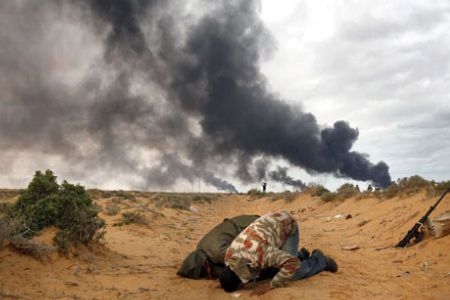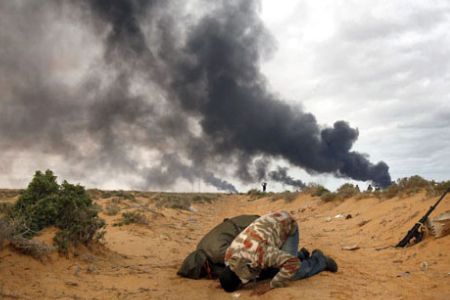 Libya Revolutionary Forces have wrest back control of strategic oil town Ajdabiya in south of the capital Benghazi following intense battles with pro-Gaddafi troops.
Opposition fighters on Saturday pushed forces loyal to Libyan ruler Muammar Gaddafi out of Ajdabiya, which has been under siege for more than a week, with the rebels holding the city center under shelling from government troops positioned on the outskirts, AFP reported.
French and British fighter jets on early hours of Friday had mounted fresh assaults at the positions of pro-Gaddafi troops near the besieged town of Ajdabiya, and continued their strikes until the early hours of Saturday.
Pro-Gaddafi forces, backed by heavier armor and a monopoly on air power as compared to poorly armored opposition forces, have reportedly seized control of Zawiya and Zuwara west of the Libyan capital, Tripoli, and have tightened their siege of Misrata.
They have also pushed revolutionary forces out of oil port cities of Ras Lanuf and Brega.
Gaddafi's forces, however, have lost vast swathes of Cyrenaica, the country's fertile eastern coastal region to anti-government forces, who are struggling to penetrate deep into the front line westward toward Tripoli, Gaddafi's main stronghold.
Cyrenaica is the center of anti-Gaddafi forces of the ongoing revolution with the National Transitional Council based in the city of Benghazi.
Many civilians have already been killed in Libya since the US, Britain, France and some other Western countries initiated their attacks on the North African country.
Apart from the United States, twelve EU countries from the European Union are taking part in Operation Odyssey Dawn, which began on March 19 after the UN Security Council imposed a no-fly zone over Libya to "protect civilians" from Gaddafi's attacks.