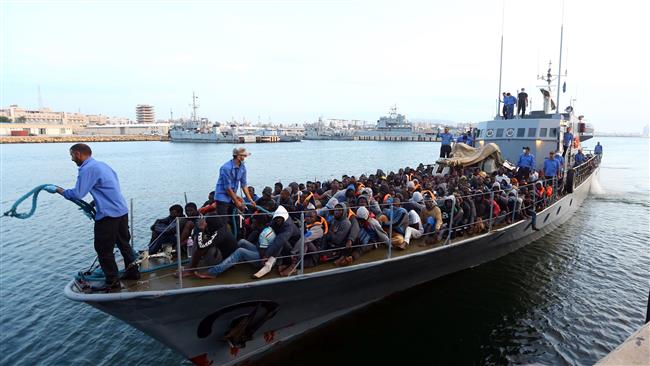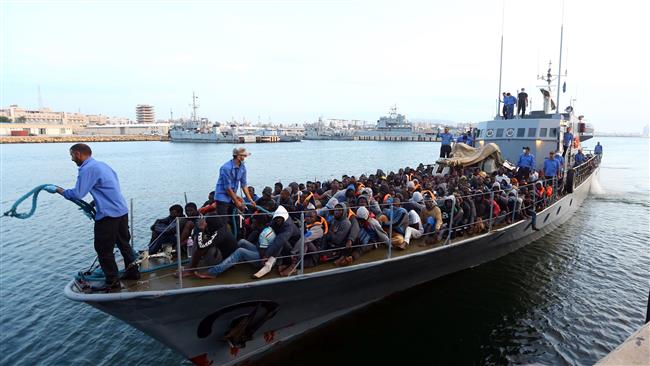 Libyan coastguards have picked up nearly 1,000 refugees heading from Africa to European states on inflatable dinghies across the Mediterranean Sea in a single day.
Officials and a witness at a Libyan naval base said Sunday that 948 refugees were picked up "in different groups" during separate rescue operations by the coastguards.
"The first group is 97 on one inflatable boat and the second group is 361 migrants on two inflatable boats," Naval forces spokesman Ayoub Qassem told media.
"The second group was taken to Khums town," Qassem said, adding that the two groups included 110 women and 70 children.
A witness watching the arrival of another coastguard ship at Tripoli's Abu Sittah naval base said a third group included 490 asylum seekers picked up off Qarabulli town. Among them were 75 women and 20 children.
The latest operations bring the number of EU-bound — mostly African — asylum seekers detained by the coastguard since last week to about 2,000.
Libya's western coast is a main departure point for hapless asylum seekers fleeing from persecution and poverty in Africa in search of a better life in the European continent.
However, since EU countries funded and trained the Libyan coastguard to stop the flow of refugees, the number of crossings has dropped sharply.
Most refugees, who brave the perilous journey across the Mediterranean, are headed toward Italy, hoping they will be rescued by ships run by humanitarian organizations.
Earlier this month, Italy's new Interior Minister Matteo Salvini raised controversy by announcing that the country would no longer allow humanitarian ships to offload rescued refugees on Italian soil.
As a result of the new policy, a ship full of refugees remained stranded at sea for several days until eventually Spain offered them asylum.
Italy and Malta have refused to take in another refugee ship, keeping some 300 refugees stranded at sea.
Earlier on Monday, Salvini left for talks in Libya on the refugee crisis, he said on Twitter.
"Mission Libya, we've left!" he said, posting a selfie on board the military plane to Libya.
At a European summit on June 28-29, Europe's leaders are expected to endorse further tightening of their external borders and giving more money to foreign countries to prevent people from setting sail for Europe.