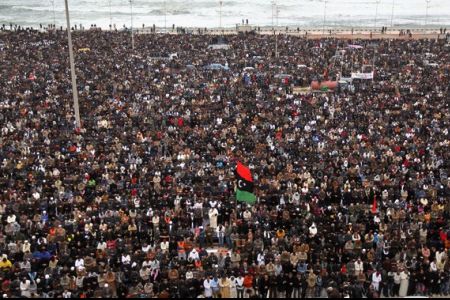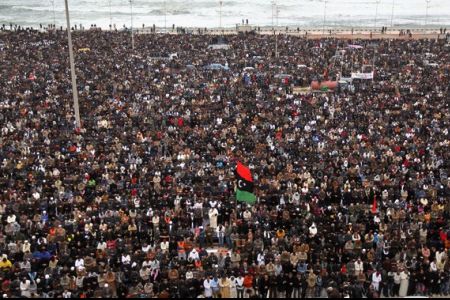 Libya is bracing for further violence as thousands of opposition protesters seeking the ouster of the Gaddafi regime move toward the capital, Tripoli.
Thousands of protesters are on their way to the capital from eastern and western cities.
Some incoming reports indicate that pro-democracy protesters have already passed through the suburbs of the city.
Meanwhile, sporadic clashes continue between protesters and government forces in the capital.
This comes as more and more soldiers are now joining the popular revolution.
The developments also come as the government is losing its grip on more cities in the country's east and west.
Tripoli is home to two million of Libya's more than six million population and strategically important city.
Experts say Tripoli's fall would be a final blow to the embattled regime.
Forces loyal to Muammar Gaddafi's government are said to be stationed outside Tripoli.
However, Gaddafi remains defiant after nearly two weeks of nationwide protests against his regime. He has even promised to open arms depots to his supporters.
The forces are exhausted for staying on standby for several days.
The aid organization Doctors Without Borders says it is concerned about the condition of the injured in the city of Benghazi.
It says the city is in short supply of medical equipment despite the heavy number of casualties.
The organization says a six-person group of its staff has arrived in the city. It says it cannot reach Tripoli by road despite the dire need for medical help there.
Over 1,000 people have already lost their lives and more fatalities are feared as Gaddafi's regime is trying to crush the popular uprising.
The humanitarian crisis is deepening in Libya as more and more people leave the country in search of safety.