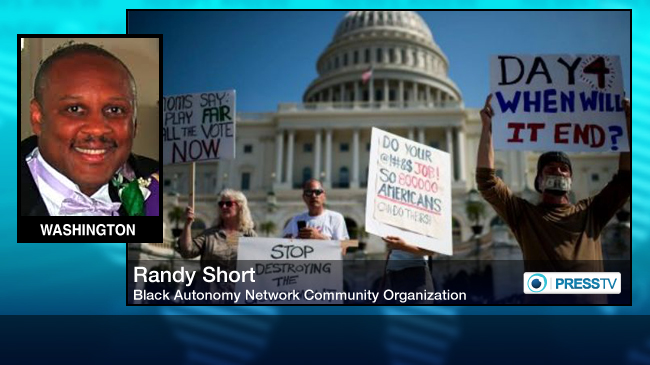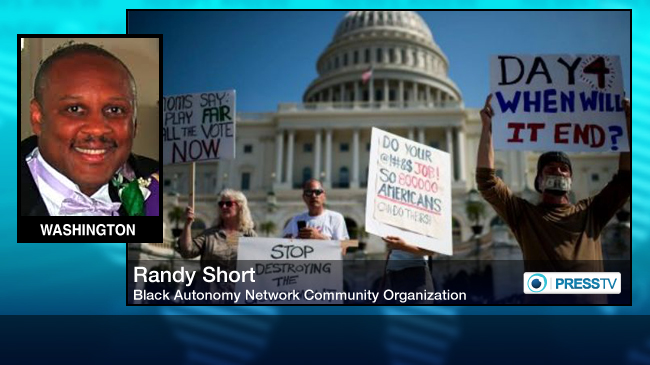 An American activist says lack of honesty and the absence of a real sincere leadership has caused the trust in US government nears record low.
"The American public, for the most part, senses that something is desperately wrong with the country. It is unhappy with the Republican Party and the Democratic Party, the two parties which are basically carbon copies of each other," said Dr. Randy Short, member of Black Autonomy Network Community Organization in an interview with Press TV on Sunday.
"The Congress as an institution that is not respected by the government. The institution of the Congress is no longer respected by the people as it once was," said Dr. Short.
He added that people believe the US presidency is also not adopting the necessary measures needed to change the lives of the people in the society.
"So there is a very strong sense of disgust in government."
Dr. Short made the remarks as a survey conducted by the Pew Research before the Oct. 16 agreement to end the government shutdown and raise the debt ceiling indicated that public trust in the US government, already quite low, has edged even lower.
According to the survey, only nineteen percent of Americans believe the US government is capable of doing what is right just about always or most of the time. The figure is down seven points since January.
Mr. Short mentioned the economic cuts including the cuts to food stamps as a measure that many people do not understand the logic behind it.
"Close to 50 million Americans get that (food stamp). They can cut four billion dollars from food stamps rather heartlessly without doing anything for jobs yet every month the policy has been to give banks, who are rich, 85 billion dollars."
"They (people) do not see honesty… people are betrayed. We don't have real sincere leadership that cares about people .. the only things that matter (for politicians) are handful of very rich families, institutions and corporations."