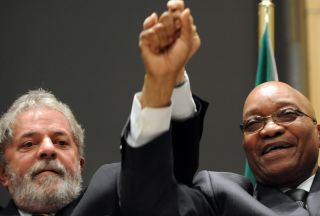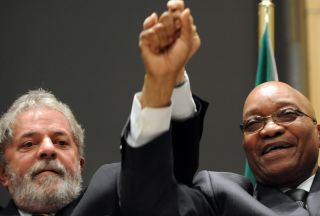 Brazilian President Luiz Inacio Lula da Silva announced on Friday that he would be cutting his African tour short and returning to Brazil ahead of schedule.
In South Africa, which was the last stop of his six-nation African tour, Lula met South African President Jacob Zuma and attended the South Africa/Brazil Business Forum on July 9.
Lula and Zuma pledged to deepen trade and commercial ties, in another sign of emerging countries gradually shifting their economic dependence away from rich nations.
"I told Comrade Zuma that we do not need to fear each other. We need to build things together. Then we will be less reliant on others and can build a stronger economy," Reuters quoted Lula as saying.
Zuma said, "President Lula has prioritized relations with Africa. Brazil has expanded its presence in Africa over the past 10 years."
Brazil is South Africa's largest commercial partner in South America, with bilateral trade worth 19 billion rand in 2009, and the two leaders said they expect that figure to rise in the future.
Lula said that he decided not to stay in South Africa for the World Cup final because he needed to attend to flood recovery in northeastern Brazil.
"I've been away for eight days, and there are many severe problems in Brazil," Lula told reporters after his meeting with Zuma.
Over 50 people died in flooding in northeastern Brazil last month.
Zuma said he understood the decision, adding, "I invited my brother to be here for the final, but he has explained why he cannot. I must say that in the same position I would have done the same thing."
Lula arrived in South Africa on Thursday at the end of a six-nation African tour, which he embarked on with the aims of increasing South-South cooperation and boosting Brazil's influence on the continent.
On the first stop of his African tour, Lula attended a summit of the Economic Community of West African States (ECOWAS) in Santa Maria, Cape Verde on July 3.
He also visited Equatorial Guinea, Kenya, Tanzania, and Zambia before arriving in South Africa.
During his African trip, Lula signed a defense accord with Equatorial Guinea, a biofuels deal with Kenya, and an environmental cooperation pact with Tanzania.