North America
Mad Trump postpones Pelosi's overseas trip in tit-for-tat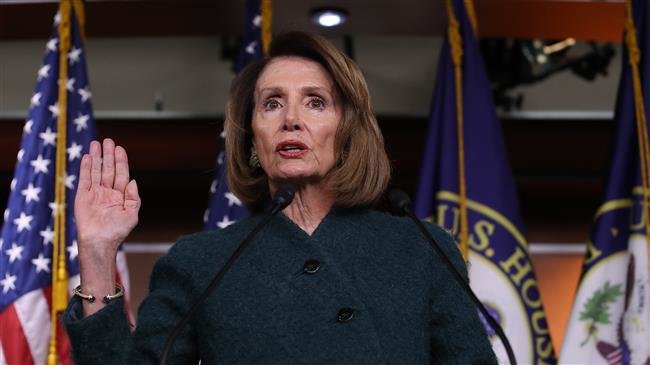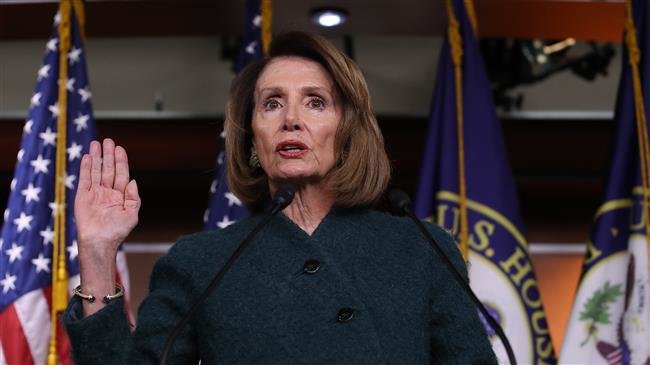 n what many are describing as a tit-for-tat move, US President Donald Trump has postponed an upcoming overseas trip of House Speaker Nancy Pelosi, citing concerns over the government shutdown that has entered its 27th day.
The shutdown started after on December 22, after Democrats refused to include $5.7 billion Trump had demanded to build a controversial security wall along the US-Mexico border.
"Due to the Shutdown, I am sorry to inform you that your trip to Brussels, Egypt and Afghanistan has been postponed," Trump wrote in a letter to the top Democrat on Thursday.
"We will reschedule this seven-day excursion when the Shutdown is over," he said.
The US House Speaker normally uses a military plane for her overseas travels and it was on this basis that Trump, in his capacity as the commander in chief, appeared to be pulling the military plane.
"He postponed her ability to use military air," which must be approved by the Department of Defense, White House spokeswoman Sarah Sanders explained.
Political observers say Trump postponed Pelosi's trip in response to her suggestion to him to reschedule his upcoming State of the Union speech on January 29.
On Wednesday, Pelosi had written to Trump suggesting that he should cancel this year's public speech because of security concerns amid the shutdown.
She repeated her suggestion to Trump on Thursday.
"The date of the State of the Union is not a sacred date. It's not constitutionally required. It's not the president's birthday. It's just a date we agreed to," Pelosi told reporters at a press conference.
"That's why I said to the president, if you don't open up government, let's discuss a mutually agreeable date," she explained to the reporters.
Meanwhile, Republican Senator Lindsey Graham, an ally of Trump, criticized both leaders for what he described as their "sophomoric" unfitting behavior.
Writing on Twitter he said Pelosi's comments regarding the State of the Union were "blatantly political" but said, "President Trump denying Speaker Pelosi military travel to visit our troops in Afghanistan, our allies in Egypt and NATO was also inappropriate."
Democrats opposed to border wall
House Democrats say they will not approve $5.7 billion funding for the controversial border wall. They believe that there are cheaper and more effective ways than the wall to strengthen border security.
President Trump is rejecting Democratic calls to end the ongoing government shutdown, saying he is not willing to "walk away" from his border wall.
They have offered to give Trump $1.3 billion in new border security funds this year to help pay for a range of high-tech and other tools to enhance security at the southern border.
Constructing a wall along the US-Mexican border could cost way above $25 billion, according to Trump's critics in the Democratic Party, who also are opposed to the shutdown.