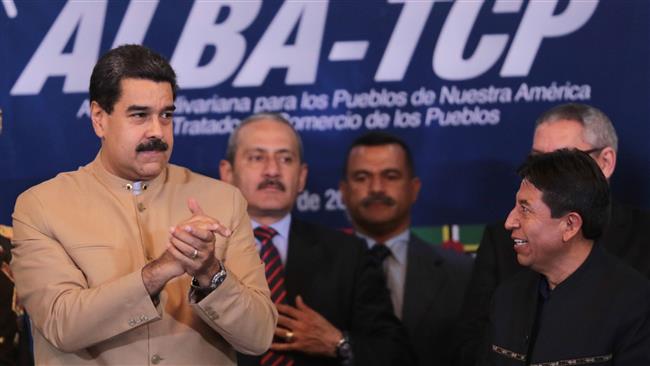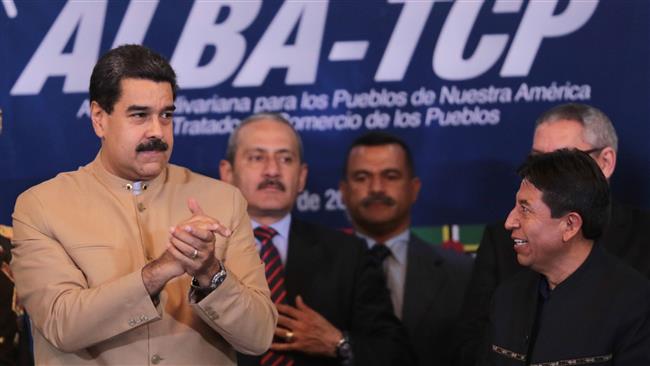 Venezuela's President Nicolas Maduro has called for regional "dialog" and "respect" for his country, amid strong criticism of his government by a number of countries in the region.
Earlier, a 17-member regional bloc met in the Peruvian capital of Lima, where they issued a joint declaration accusing the Venezuelan government of exercising "dictatorship."
They collectively condemned the "breakdown of the democratic order" in Venezuela and said they would not recognize any action taken by the "illegitimate" Constituent Assembly that the Maduro government had pushed to be established.
Among the countries in the Lima meeting were Canada, Brazil, Argentina, Mexico, Chile and Colombia.
Addressing an extraordinary meeting of countries from the Bolivarian Alliance for the Peoples of Our America (ALBA) on Tuesday, Maduro said, "I think what we're missing is a regional dialog."
"I'd like to propose to ALBA and to powerful leaders of the countries present that we begin a dialog of respect for Venezuela," he said.
Maduro proposed dialog with Mexico, Colombia, Peru, Chile, Paraguay, and Argentina. He said he was not sure about Brazil, "because there's no legitimate government there."
The Maduro government held national elections to select the members of a Constituent Assembly on July 30. Caracas said more than eight million people, or 41.5 percent of the electorate, participated in the votes for the assembly, which took over the opposition-controlled congress.
ALBA for Maduro
The ALBA countries had gathered in Caracas to voice support for the Venezuelan government. On Tuesday, they issued a public declaration that congratulated Venezuela on the formation of the Constituent Assembly and rejected mounting international criticism of Caracas.
The ALBA countries also condemned the unilateral economic sanctions imposed by the United States on Venezuela as a "flagrant violation of international law and human rights."
Maduro claimed in his Tuesday remarks that since the assembly "triumph in Venezuela, there have been more than 12 days of absolute peace in the country."
The president had previously argued that the formation of the assembly, with the power to rewrite the country's constitution, was the only way to restore peace after months of political unrest, which has also been fueled by the oil-rich country's economic woes.
The Venezuelan opposition, however, says that the new assembly is an attempt by Maduro to grab more powers.
The US has also condemned the move and promised to "continue to take strong and swift actions against the architects of authoritarianism in Venezuela."
The South American country has been the scene of deadly protests against Maduro's government for the last four months. More than 120 people have been killed and thousands arrested so far.
Washington blames Maduro for the violence and has urged regional and international governments to take strong action against his government. Maduro, however, says the US and its allies in the region are inciting the violence to bring down his government.