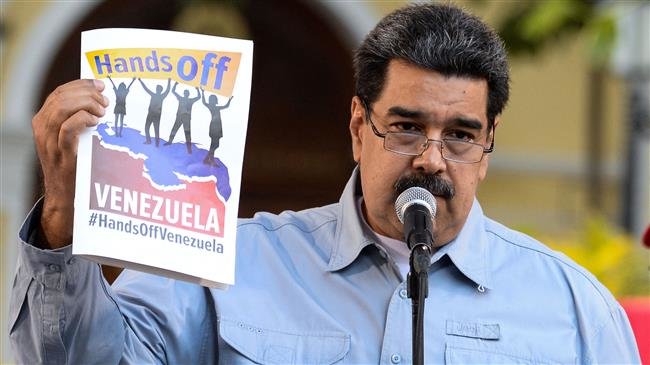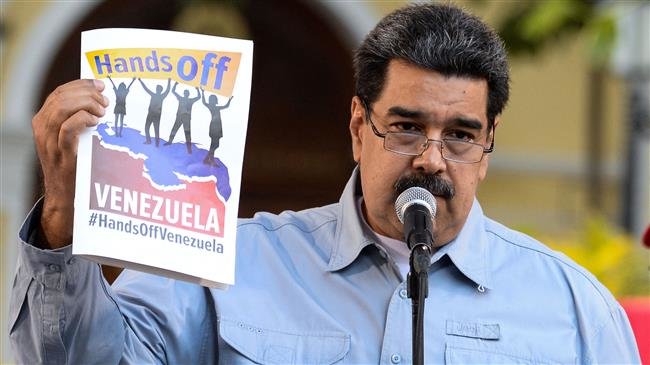 Venezuelan President Nicolas Maduro says US President Donald Trump is using Venezuela's humanitarian crisis as a cover-up for his military plans in the country.
"The humanitarian crisis is nothing but a cover-up for military plans of the Trump government," said Maduro at a rally gathering signatures against US interference in the country's domestic affairs.
The Venezuelan president vowed to "defeat the US coup attempt," saying Venezuelans are united in the face of American attempts to undermine the country's sovereignty.
"I have just signed the petition supporting the peace, the sacred sovereignty of Venezuela, the right to independence and self-determination of the Venezuelan people. Empire, hands off Venezuela! Venezuela deserves respect," said Maduro.
The Venezuelan president also lashed out at Trump for trying to hamper a peaceful settlement of the crisis.
"President Donald Trump has been trying to destroy the noble initiative of dialogue, suggested by Uruguay and Mexico with the support of the Caribbean Community, aimed at peaceful solution and launch of dialogue in Venezuela," he said.
Earlier on Thursday, Russian Foreign Ministry spokeswoman Maria Zakharova slammed Washington's military ambitions in Venezuela, saying the US has illegitimately called for mutiny among the Latin American country's military.
The US has staunchly backed Venezuela's self-proclaimed "interim president" Juan Guaido after Maduro was sworn in for a second term in January after winning an election boycotted by the opposition.
Guaido, the head of the National Assembly, declared himself president on January 23.
Washington has threatened to use military force in the country, with US officials saying "all options are on the table" against Caracas.
Trump's hawkish national security adviser was seen holding notes that suggested Washington is planning a major troop deployment in Colombia amid Venezuela tensions.
Speaking on Thursday, Washington's special envoy on Venezuela Elliott Abrams said the time for dialogue with Maduro had "long passed" and that no talks would be accepted other than for his "departure".
The US has since confiscated Venezuelan state assets in America, including a subsidiary of the Venezuelan state oil company, to channel them to Guaido.
'Peaceful settlement'
On Thursday, representatives from more than 10 European and Latin American countries held a meeting in Uruguayan capital of Montevideo to seek a solution to the crisis.
At a joint presser, European Union Foreign Policy Chief Federica Mogherini and Uruguayan Foreign Minister Rodolfo Nin Novoa stressed that the Venezuelan issue should be settled in a peaceful way instead of using violence.
Outside the venue of the meeting, a protest rally was held by local residents opposing foreign interference in Venezuela's internal affairs. The protesters said Venezuelan people have the right to decide their future.
Earlier, Uruguay and Mexico unveiled a four-step proposal, the "Montevideo Mechanism", to bring Venezuela's disputing parties closer to the negotiating table.
The first step calls for immediate dialogue to create conditions for direct contact between President Maduro and the right-wing opposition led by Guaido.