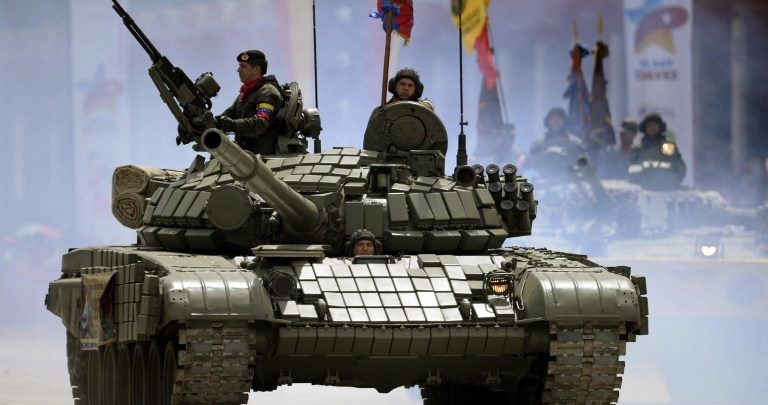 President Nicolas Maduro warns the US against carrying out the threat of military action in Venezuela, saying the country's armed forces are in possession of advanced weaponry supplied by Russia and China, and stand fully ready to face any act of aggression with the help of millions of paramilitaries.
In an interview with Iran's Spanish-language Hispan TV, Maduro said the Caracas government takes Washington's military threats seriously and is already making preparations "to protect our borders and territorial integrity."
"We recently held five days of maneuvers. Venezuela is also in possession of advanced military equipment, which it has received via China and Russia. We have upgraded our entire military and expanded our popular paramilitary forces, whose numbers will reach two million by April," the president added.
Political tensions have been running high in the South American country since late January, when Western-backed opposition leader Juan Guaido abruptly declared himself "interim president" of Venezuela in an attempt to dispute last year's re-election of Maduro.
The US and a number of its Latin American allies rushed to recognize Guaido. Several European countries also followed suit after Caracas dismissed an ultimatum they had set for a new presidential vote.
In the other camp, Russia, China, Iran, Turkey and Cuba, among others, have voiced support for Maduro in the face of what Caracas views as a US-directed coup bid. The United Nations has also said it will only cooperate with the elected government.
After recognizing Guaido, Trump threatened that military intervention in Venezuela was an "option" to support Guaido.
In what Maduro condemned as an "almost Nazi-style" speech in Miami on February 19, Trump appealed directly to the Venezuelan military to abandon their support for Maduro, threatening that those who continued to back the Caracas government were risking their own future and lives.
In the interview, Maduro rejected the possibility of the military turning against the Venezuelan government and said "our armed forces act in unison when it comes to morality, doctrine and strategy. They abide by the Constitution."
Elsewhere in the interview, the Venezuelan head of state slammed Washington for slapping sanctions on the country's national petroleum company, PDVSA, in a bid to speed up the exit of the elected government, which relies heavily on crude exports for its revenues.The bans have been designed to funnel income from the country's largest revenue generator into the hands of Guaido.
Maduro said the oil sanctions "will be to the detriment of the United States itself," because the Americans will have to buy lower-quality oil at a higher price from other parts of the world.
The sanctions, he added, "would cause certain problems for us, but we will overcome these conditions. Be sure that Venezuela will sell its oil in the international markets and we will receive the income in time."
"I personally tell you that I am working on reviving and forming a new PDVSA, about which I will issue an important statement in the coming days," Maduro said.
Maduro also blasted Trump for adopting an "extremist, unwise and improper" position against Venezuela.
America's president wants to bring Venezuela to its knees, said Maduro, adding that his main concern is not "democracy" or "humanitarian crisis," but he has an eye on the country's wealth and rich energy resources.
Maduro outlined the measures taken by his administration to alleviate the nation's economic problems, saying that the top priority is to decrease the unemployment rate.
"Venezuela will move on from all these acts of aggression. We will teach them a big lesson and promote our political, economic and social life," Maduro said, adding, "The battle is to protect not only Venezuela, but also independence, dignity, humanity and international law."
The Venezuelan president went on to say, "The era for coups d'état and invasion…must come to an end. The 19th and 20th centuries are over. The current century is no time for neo-imperialism and slavery."
Warning to Europe
He also denounced the European Union's bias in favor of the Venezuelan opposition, saying the 28-nation bloc is making a "fundamental mistake" in dealing with the Latin American state.
Europe only "listens to the rightist (opposition) and believes all their lies," Maduro added, advising the European countries to "lend an ear to the truth."
The Union blindly follows the US in its aggressive approach towards Venezuela, said the president, warning that the Europeans will have blood on their hands if Venezuela comes under attack "as it happened in Iraq, Libya and Syria."