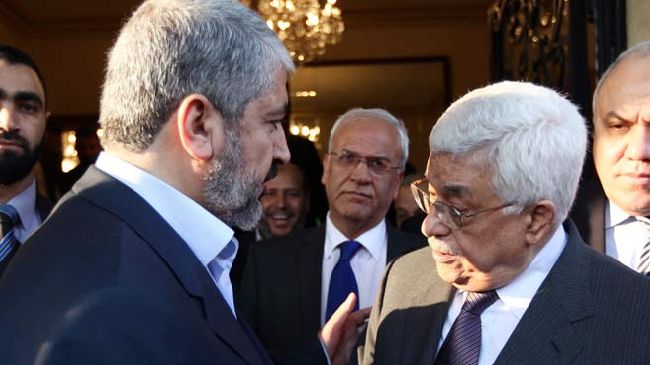 Acting Palestinian Authority chief Mahmoud Abbas has held a meeting with Leader of Hamas Political Bureau Khaled Meshaal to discuss a recent unity deal between the Palestinian groups.
The two sides discussed the implementation of the recent reconciliation agreement between the Palestinian Fatah Party and the Palestinian resistance movement Hamas in the Qatari capital Doha on Monday.
"Abbas and Meshaal held a long meeting this afternoon in Doha to discuss the latest Palestinian developments, including the reconciliation agreement and creating a positive atmosphere in which to achieve it," Hamas said in a statement which was released following the meeting.
The talks also focused on the formation of a national government that would include representatives from various Palestinian factions.
"The meeting was positive, with both leaders expressing a serious willingness to turn over a new leaf, based on national partnership," it added.
The last time Abbas and Meshaal met each other was in January 2013 in the Egyptian capital Cairo.
On April 23, Hamas and the Palestine Liberation Organization, which includes Fatah Party, pledged to bury their differences and form a unity government. Under the long-awaited deal, Hamas and Fatah are to establish the unity government within five weeks and hold national elections six months later.
The Israeli regime reacted by canceling the so-called peace talks with the Palestinian Authority and threatening sanctions against it.
On April 24, Israeli Prime Minister Benjamin Netanyahu described the unity deal as a "blow to Israel." This is while on April 27 Netanyahu stated that Tel Aviv would not take part in talks with a Palestinian government that is backed by Hamas.