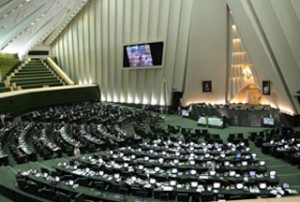 Iran's Parliament has begun the final day of consecutive debates on reviewing the credentials of the eight remaining ministers proposed by President Mahmoud Ahmadinejad.
Debates on President Ahmadinejad's 21-member Cabinet line-up began on Sunday with hot discussions by lawmakers speaking for and against the proposed nominees.
During Majlis session on Wednesday, the lawmakers will discuss the remaining eight proposed ministers who will each have the opportunity to present their plans.
After opponents and proponents expressed their views on the nominee for Ministry of Industries and Mines, Ali-Akbar Mehrabian, on Tuesday, the Wednesday's session began with Mehrabian defending his plans.
To take office, the potential ministers will have to gain the Parliament's vote of confidence by winning the approval of the majority of the representatives.
Majlis is scheduled to complete the process and give its vote of confidence decisions to President Ahmadinejad's 21-member Cabinet late Wednesday.
Parliamentary debates over the new Cabinet line-up kicked off on Sunday in Iran with President Ahmadinejad delivering speeches about his plans of the future government and defending his chosen candidates.
At the end of discussions, Ahmadinejad will have the opportunity to make his final remarks defending his proposed 21-member Cabinet.