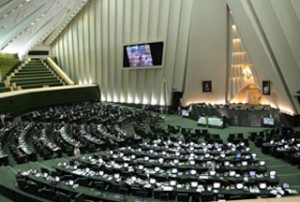 Iranian Parliament (Majlis) speaker calls for the extension of Iran's uranium enrichment to a base level of 20-percent, as the US and EU continue efforts to impose additional unilateral sanctions on Tehran.
Addressing Iranian lawmakers at a parliamentary session on Wednesday, Majlis Speaker Ali Larijani criticized the West for putting together a new round of punitive measure against Iran, describing such pressures as "unjustified."
The Majlis speaker went on to censure EU members and the US for their failure to deliver their promise of supplying fuel to the Tehran Research Reactor, adding that the West had failed to respect the rules and regulations of the Nuclear Non Proliferation Treaty (NPT).
"Majlis calls on the government to lay the base level for its enrichment activities at 20 percent as these countries have failed to respect the NPT regulations and did not supply fuel to the Tehran Research Reactor," the Fars news agency quoted Larijani as saying.
He urged the Iranian government to put up strong resistance against such measures, "so that the non-committed bullying countries realize that their unjustified pressure would only prompt Iran to raise the level of its enrichment activities based on its [domestic] requirements."
The remarks come as EU member states agreed on Monday to push ahead with plans to move beyond sanctions adopted in a United Nations Security Council resolution last week with additional measures.
On June 9, the Security Council adopted a resolution imposing a fourth round of sanctions on Iran over its nuclear program.
The new sanctions include further restrictions on trade insurance and financial transactions, and would target Iran's transport sector, particularly its shipping and air cargo operators.
Meanwhile, Larijani reacted to sanctions targeting Iran's shipping industry and warned the West of taking retaliatory measures against their ships.
"I am warning the US and certain adventurous countries that in case they plan to inspect the cargo of Iranian ships and planes, they should rest assured that we will do the same in the Persian Gulf and the Sea of Oman," he said.
"This retaliation is part of our policy to protect our national interests," Larijani added.
Tehran rejects Western accusations of seeking to develop nuclear weapons, arguing that the International Atomic Energy Agency in numerous reports has confirmed the non-diversion of nuclear material in Iran.