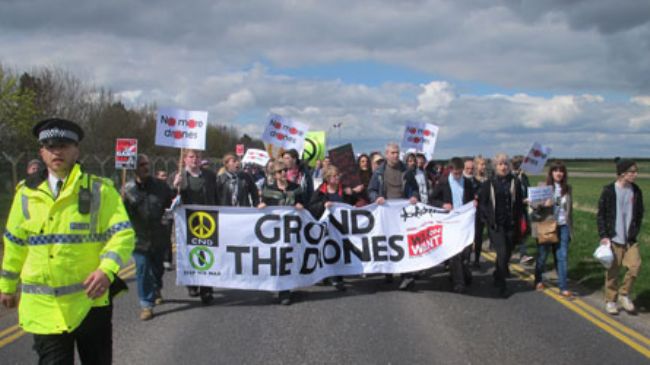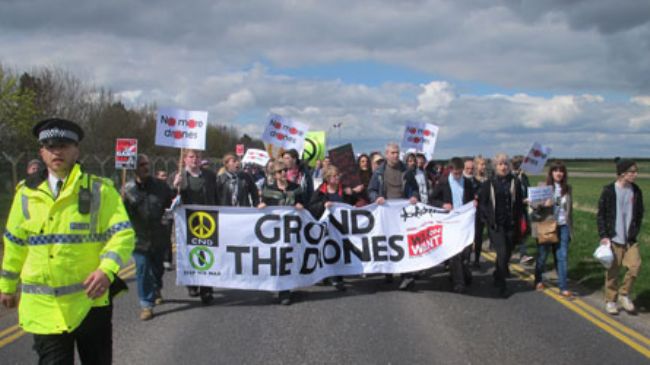 A coalition of British anti-arms trade groups will protest at ExCel London Exhibition Center against DSEI 2013, the controversial biennial arms fair, and drone warfare.
The rally, titled "Say No to the Games of Drones", is supported by War on Want, Campaign Against Arms Trade, Drone Wars UK, Stop the War Coalition and Campaign for Nuclear Disarmament.
The protesters will meet at Royal Victoria DLR station in east London on Monday September 9 and will march to ExCel to voice their outrage at the four-day arms fair that will start on September 10 and features a "special showcase" for Unmanned Aerial Vehicles, commonly known as drones.
Organizers of the arms fair are also to hold a conference on September 9 focusing on drones.
"Drones are indiscriminate weapons of war that have been responsible for thousands of civilian deaths. Drones should be banned, just as landmines and cluster munitions were banned. Now is the time to stop the rise of drone warfare – before it is too late," the Stop the War Coalition said on its website.
The march is part of a major six-day protest action, organized by Stop the Arms Fair coalition in London, as the government welcomes "the world's worst human rights abusing regimes to shop for weapons".
The group has organized protests that will begin on September 7 and end on September 12, with the expected climax planned for next Sunday when activists will greet arms dealers, arriving and trying to set up at the fair, with a huge protest rally.
This year's arms fair brings together 28,000 international weapons traders and their clients from more than 50 countries invited by the British government.
Britain and the US are two major mentors of drone warfare in Iraq, Afghanistan and Pakistan.
According to a report by the United Nations Assistance Mission in Afghanistan (UNAMA ) published on July 31, at least 15 civilians died and seven others were injured in drone strikes in Afghanistan in the first six months of 2013.
This comes as UNAMA said the figures may be under-reporting as the mission cannot always confirm civilian casualties from drone attacks while the ISAF also does not routinely release information on their air operations.
The UNAMA added they had not recorded any drone attack casualties for the same period last year.