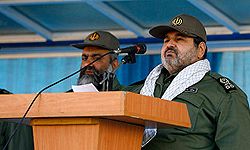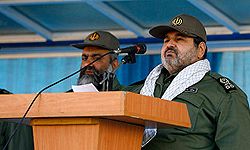 Chief of Staff of Iran's Armed Forces Major General Hassan Firouzabadi mentioned here on Sunday that the downfall of tyrannical rulers in the region has frightened Israel as its existence totally depends on the approval and cooperation of such regional dictators.
Today, the Zionist regime is worried about the ouster of dictators in the region since this regime came into existence as a result of their approval," Firouzabadi said.
"If any other government rises in any of these regional countries through the will of the people, certainly it will not ally with Israel.
"Therefore today the ascot tie around the Americans' neck has become tighter," he added.
Firouzabadi further pointed to the mottoes chanted by the regional people who have risen against the tyranny of their rulers, and said these mottoes indicate that these popular revolutions and uprisings are against not just internal corruption and dictatorial regimes in their countries, but also the arrogant powers' humiliating attitude and the Zionist regime.
Political observers believe that people's uprisings in Egypt, Tunisia, Bahrain, Jordan, Yemen and Libya are the result of growing "Islamic awakening" in the Middle-Eastern countries.
People in the Middle-East now believe that the western approach to the ongoing revolutions in these countries has unveiled the true nature of the West's stance on democracy.
The United States and certain other western countries have adopted a double-standard approach towards the popular protests against the dictatorial regimes in the region.
Political observers also believe that the recent uprisings in Tunisia, Egypt, Yemen, Bahrain and Jordan are the result of America's double standards in the Middle-East and its biased policies against different nations.
When asked if Mubarak was a dictator, United States Vice-President Joseph Biden said, "Mubarak has been an ally of ours in a number of things."
Western analysts underline that such statements leave negative effects on the Muslim nations of the region because it reveals that the United States has double standards when it comes to human rights and democracy.
The United States and Europe supported the dictatorship of Zine El Abidin Ben Ali, the ousted Tunisian President, and showed indifference to the Tunisian people's cries of protest.
In Egypt, the United States and the West also supported Mubarak in repressing Islamic groups and intellectuals and torturing freedom-seeking Egyptian youth.
Under the pretext of human rights, the United States criticizes establishments that respect human and civil rights but stand against its authoritarian policies.