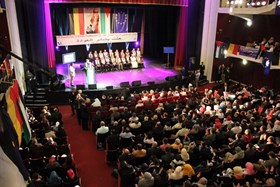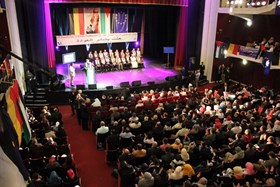 The Palestinian Forum in Britain held on Sunday evening a major festival in London in solidarity with the Aqsa Mosque and Gaza Strip as part of the activities of the European Campaign to End the Siege on Gaza.
The head of the Forum, Ziyad al-Aloul, stressed, in the opening speech, the necessity of lifting the siege on Gaza in order to end the suffering of the Palestinian people there.
He also called for Arab and Islamic action to check the Israeli projects aimed at dominating the holy city of Jerusalem.
The festival included performances of some Palestinian artists including the well- known singers Abdulfattah Owinat and Kefah Zeraiqi.
Palestinian flags were raised high by festival attendees along with banners calling for opening of Rafah Crossing, reconstructing Gaza and opening Gaza harbor.
The festival included fund raising for the benefit of the Jerusalemite people. 20 homes were announced to be repaired with a budget of five thousand pounds sterling for each house as well as covering the cost of raising 20 orphans with a sum of 25 pounds per child a month.
The European Campaign to End the Siege on Gaza declared one week ago the launch of activities in the European continent in solidarity with Gaza on the occasion of the sixth anniversary of the Israeli aggression on Gaza in late 2008.