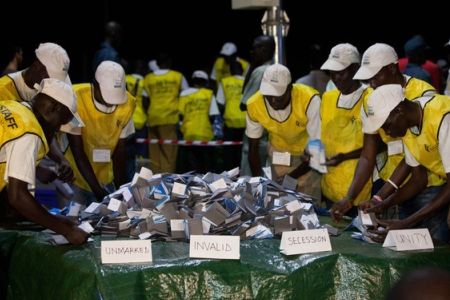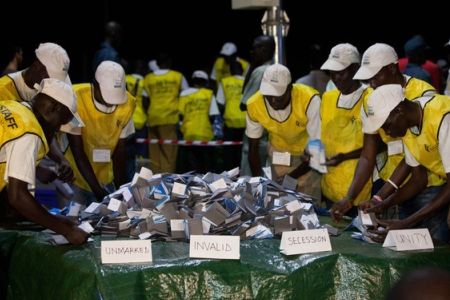 South Sudan has achieved the majority required in a referendum on its secession from the north, with many counties still due to report.
Some states and counties have reported landslides of over 99 percent for the separation of the south from the north, reports showed on Wednesday.
The south gained the majority of votes needed for secession although the region's most populous state of Jonglei has not yet announced its results, AFP reported.
Referendum officials have revealed figures showing that 2,198,422 votes for the secession have already been returned. This comes as the simple majority needed on the 3,932,588 million registered voters was 1.89 million votes.
Only 227 or 0.076 percent of the voters opted to remain united with the north.
In Central Equatoria, including the south's second most populous state and regional capital of Juba, 449,321 voters from the 457,452, or 98.2 percent, opted for secession. Only 1.09 percent voted for unity.
In the Western Bahr al-Ghazal state, 153,839 or 94.6 percent secession votes were casted.
In the state of Warrap, a total of 468,858 votes or 99.5 percent of the 469.579 votes were for the secession. A 0.036 percent voted for unity.
Final results are not to be expected before next month.
"We are being methodical to make sure all the rules are respected and that takes time, of course," said Southern Sudanese Referendum Bureau spokesman, Aleu Garang Aleu.