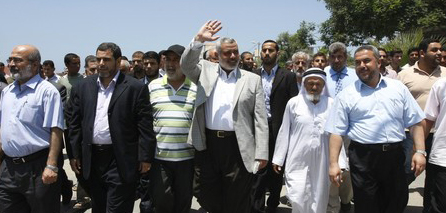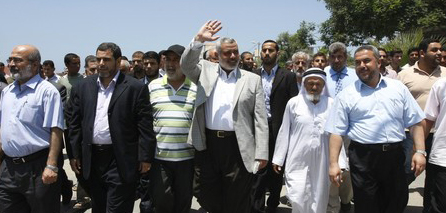 The humanitarian mission to Gaza, sponsored by Putera 1Malaysia Club in collaboration with the Malaysian Red Cross Society was given the honour to meet senior Hamas leader Ismail Haniyeh on Wednesday.ion
The 22-member team, led by Putera 1Malaysia Club President, Datuk Abdul Azeez Abdul Rahim, arrived at the government building at 12.10pm local time after visiting the Al-Quds hospital, here.
In the one-hour meeting, Ismail welcomed the team which is here to deliver Ramadan humanitarian aid from Malaysians such as foodstuff, clothing, blankets and medicines, to more than 2,000 families in several settlements in the besieged region.
"You are all welcome here in Gaza, the land of the Palestinians," Ismail, the highest-ranked Hamas leader who is well-known throughout the world, told the Malaysian group through an interpreter.
Also present were the Political Secretary to the Foreign Minister, Datuk Norhaidi Che Dan and MRCS Vice-Chairman Datuk Wira Dr Bahari Abu Mansor, who is also the adviser to the humanitarian group.
Ismail said he was aware of the presence of the group from Malaysia comprising 67 volunteers including 35 doctors of various races, and praised the spirit of 1Malaysia unity shown in the team.
Ismail also appreciated the continuous contribution from the people of Malaysia through non-governmental bodies, and assistance from the Malaysian government ever since the era of Tun Dr Mahathir Mohamad until the present Prime Minister Datuk Seri Najib Tun Razak.
In his reply, Abdul Azeez, who is also an Umno Supreme Council member, expressed appreciation to Ismail for inviting them to meet him after the team entered Gaza via the Rafah border on Monday.
"In Malaysia, the Palestinians are not very far from our heart," he told Ismail, adding that the purpose of the group's visit was also to send 35 doctors of various races to help the Palestinian people.
They would be placed at several hospitals and clinics in the Gaza peninsula, he said.