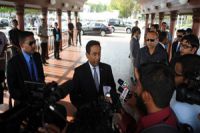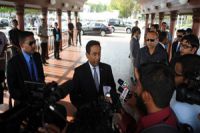 Maldives and Sri Lanka will sign four agreements on bilateral cooperation, President Abdulla Yameen said Tuesday.
According to Haveeru news, before departing to Sri Lanka on his second state visit, President Yameen told reporters that the agreements would be focused on improving the health sector and police service. Details would be released during the visit, he added.
The president noted that the two countries would discuss an existing agreement on defence cooperation and combating piracy in the region.
"Since Ceylon [Sri Lanka] is one of our closest friends, I'll submit to the [Sri Lankan] government a proposal on making things easier for the Maldivians living in Ceylon," he said.
During the three-day visit, President Yameen will hold one-to-one deliberations with his Sri Lankan counterpart Mahinda Rajapaksa on charting the course for future Maldives-Sri Lanka bilateral ties.
The two leaders will lead official bilateral talks between senior delegations of the two countries.