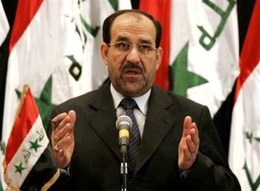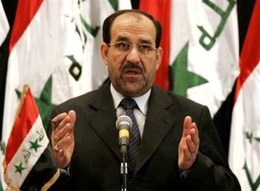 Iraqi Prime Minister Nouri al-Maliki arrived in the violence-stricken Anbar province on an unannounced visit on Saturday.
"The Prime Minister arrived on an unannounced visit to support military operations and assess the situation on the ground," a police said.
According to the source, Maliki is to hold a cabinet meeting in the restive province.
The Iraqi army is currently pursuing a major military operation in the province.
According to the government, the campaign aims to flush out militiamen affiliated with the so-called 'Islamic State of Iraq and Levant' group.
Local tribes opposed to the government, however, have reacted angrily to civilian causalities caused by the campaign.