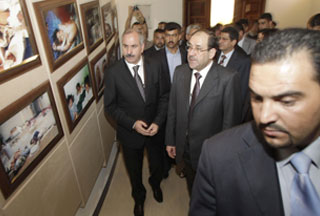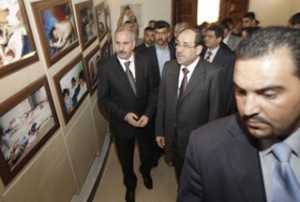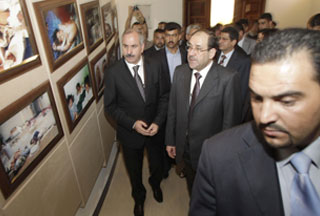 Iraqi Prime Minister Nuri al-Maliki has said that he will bring to justice Saddam Hussein's aides who ordered chemical attacks on Kurdish villages in 1988.
In an effort to resolve regional disputes, Nuri al-Maliki visited Iraq's Kurdish region on Sunday and Monday for the first time as Premier and held talks with Kurdish leaders, including the President of Iraq Jalal Talabani and head of the regional Kurdish government Masoud Barzani, over disputes of oil and land.
"We will not give up and will not keep silent until a just punishment is imposed on everyone who committed the crime of bombing Halabjah," Maliki said during his visit to the town adjacent to the Iraq-Iran border.
Thousands of Kurds were killed in the gas attacks, including about 5,000 in an attack on the town of Halabja in 1988 during the eight-year war between Iraq and Iran.
Ali Hassan al-Majeed- a cousin of Saddam known as "Chemical Ali" is also said to have been involved in the Halabja gas attacks.
Chemical Ali has been sentenced to death penalty for three times.
He was first sentenced to death in June 2007 for genocide after ordering the deaths of tens of thousands of Kurds during the 1988 Anfal campaign, when villagers were bombed with poison gas.
He was also given a second death penalty for war crimes and crimes against humanity over a bloody crackdown on Shias during their ill-fated uprising after the 1991 Gulf War.
On March 2009, the henchman was sentenced to death for the third time, this time for the assassination of Grand-Ayatollah Mohammad al-Sadr in 1999.
Majid's execution has been delayed repeatedly for what is described as disagreements among some Iraqi leaders over his verdict. The United States which is also said to be against the death penalty has so far refused to hand over the culprit to the high court.
Iraq acquired the technology and the materials to develop chemical weapons from the US and other Western countries during Saddam's 8-year war imposed on Iran. The Western countries not only equipped the then Iraqi regime with the technology, but also supported it financially.