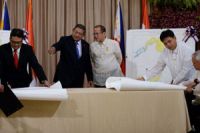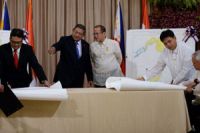 Philippines and Indonesia have signed a major border agreement aimed at easing a sea dispute in the Mindanao Sea and Celebes Sea after 20 years of negotiations.
According to AFP, Philippine Foreign Affairs Secretary Albert del Rosario and Indonesian Foreign Minister Marty Natalegawa signed the deal in Manila on Friday, defining the borders of the countries' Exclusive Economic Zones.
The two foreign ministers also signed agreements with regard to cooperation on counterterrorism and higher education.
Philippine President Benigno Aquino and outgoing Indonesian President Susilo Bambang Yudhoyono witnessed the event, while vowing to forge closer ties between the two countries.
Aquino called the border agreement a milestone "that is founded on the principles of international law, particularly the United Nations Convention on the Law of the Sea," adding, "It serves as solid proof to our steadfast commitment to uphold the rule of law and pursue the peaceful and equitable settlement of maritime concerns."
The border agreement comes as the Philippines filed an arbitration case before an international tribunal in The Hague over a territorial spat with China in the South China Sea.