Syria
March in Qudsaiya in support of army against terrorism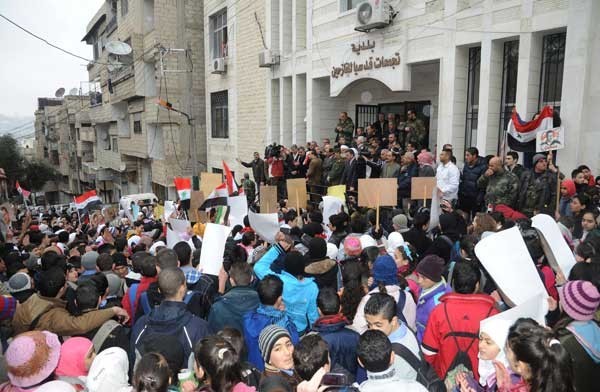 Citizens of the occupied Syrian Golan on Monday staged a mass rally in a gathering for displaced citizens in Qudsaiya in support of the Syrian army in facing terrorism.
Participants voiced full confidence in the army's ability to defeat terrorists despite the unlimited arming of funding these terrorists receive from the enemies of the Syrian people.
The participants also voiced support for the positions and statements of the Syrian Arab Republic delegation which participated in the Geneva 2 conference.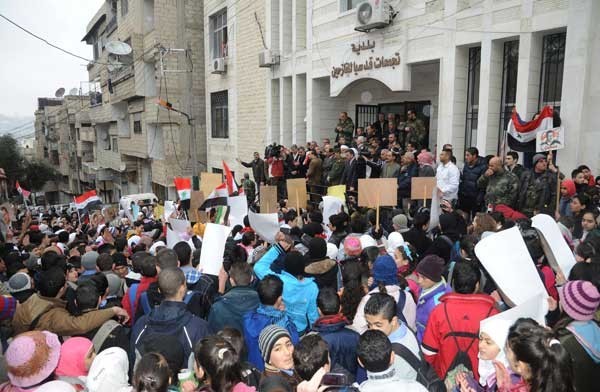 During the march, Quneitra Governor Ma'an Salaheddin said that Syria's position is strong, rejects foreign dictations, and adheres to defending Syria's land and security, asserting that the people of Quneitra province and the occupied Syrian Golan support the Syrian army in its battle against terrorism.
A speech was delivered on behalf of the people of the occupied Syrian Golan and the people staying at the Qudsaiya gathering for displaced citizens, in which they voiced pride in the sacrifices made by the Syrian army for the sake of restoring stability and security to all areas.
Earlier on Sunday, residents of al-Nabek city in Damascus Countryside and al-Liwan neighborhood in Kafar Souseh district in Damascus took to the streets to express support to the Syrian Arab Army.