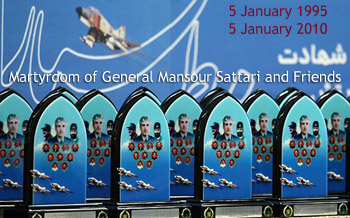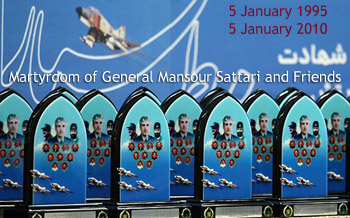 The commander of the Iranian Air Force, Brig. Gen. Mansour Sattari, martyred in a plane crash with 11 other officers, including four other generals at 5 January 1995.
The Teheran radio said a plane carrying General Satari, the architect of an intensive military buildup in the Iranian Air Force since 1988, crashed shortly after takeoff late Thursday night.
It quoted the commander of the Iranian Army, Maj. Gen. Ali Shahbazi, as saying that the plane, a Lockheed C-140 Jetstar, had malfunctioned shortly after taking off from Babai Air Force Base near Isfahan, 500 miles south of Teheran.
Iranian news agency, I.R.N.A., had named the four brigadier generals killed with General Satari as Alireza Yassini, the air force chief of staff; Mostafa Ardestani, deputy commander for operations; Ahmad Shojaei, head of the engineering department, and Hassan Razzaqi, head of the controller department.
The other victims were two colonels, a major, a captain and three lieutenants.