Syria
Martyrs' Families Honored in Lattakia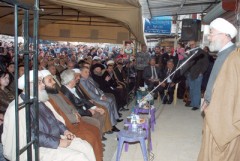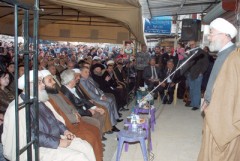 Popular, civil and charity activities in Lattakia city on Friday honored a number of families of martyrs who sacrificed their lives to defend Syria and its people from the conspiracies by U.S, israel and their regional allies targeting them.
Mufti of Lattakia city, sheikh Zakaria Selwaya, said that the martyrs' sacrifices constitute a medal of honor for each Syrian who adheres to Syria's unity, stressing that the acts committed by armed terrorist groups contradict the values of the Syrian society and are rejected by the entirety of the Syrian community.
In turn, Mufti of Lattakia area, sheikh Ghazal Ghazal, affirmed that Syria will remain immune to conspiracies, lauding the great sacrifices made by the Syrian army.
For his part, Father Nicola Khouri from Lattakia's Greek Orthodox Parish said that martyrs and their families are worthy of respect, stressing that Syria is doing fine and will continue to be so.
Symbolic gifts were presented to the families of martyrs as a gesture of appreciation of their sons' sacrifices.
On a relevant note, youth activities in Lattakia gathered in al-Zira'a roundabout to express their denouncement of the conspiracy against Syria and their rejection of foreign interference, with participants raising Syrian flags and banners and chanting slogans reflecting the Syrians' adherence to national unity and glorifying the army's sacrifices for the sake of restoring security and safety.
Participants affirmed that they will continue to gather, particularly on Friday, to restore the true meanings of this day that some have tried to subvert and exploit to commit acts that serve plots against Syria.