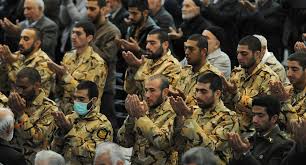 The holy city of Mashhad hosts the international conference on the Fatemiyoun fighters.
Once again, hundreds of self-motivated Afghans who fought on the side of the Syrian government against terrorism in the Arab country were honored during the one-day event.
Given the recent drawdown of Syria's armed conflict, many of these men are now returning home, either to Iran or Afghanistan.
The Fatemiyoun fighters played a major role in defeating the Takfiri terrorist group of Daesh and its Qaeda offshoots in Syria.
They were also influential in strengthening the Axis of Resistance, which stretches to Palestine through Iraq, Syria, Lebanon and Yemen.
These volunteer fighters say they went to Syria of their own accord in order to defend their faith and the holy shrines.
At the end of the conference, special messages were read to the participants from the leader of the Bahraini Musims Ayatollah Sheikh Issa Qassem, the cultural attaché of Lebanon's Hezbollah Sheikh Akram Barakat, as well as several commanders of the Fatemiyoun.
By defending the holy shrines in Syria, members of the Fatemiyoun have won recognition for themselves, their families and Afghan communities in the Muslim world.