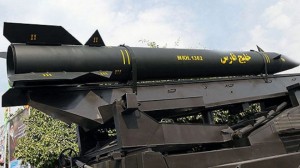 Iran's Defense Ministry has announced the delivery of a massive consignment of indigenous ballistic missiles to the country's Armed Forces.
The Aerospace Division of the Islamic Revolution Guards Corps (IRGC) and the Khatam al-Anbiya Air Defense Base on Wednesday took delivery of Qadr, Qiam (Uprising), Fateh (Conqueror) 110, Khalij-e-Fars (Persian Gulf) ballistic missiles as well as Mersad air defense system.
The missiles and the system have been designed and produced by the Aerospace Industries Organization of Iran's Defense Ministry.
During the handover ceremony, Iranian Defense Minister Brigadier General Hossein Dehqan said that Iran will continue to boost deterrence and defense capabilities of its Armed Forces.
He said that Iran is capable of meeting the missile demands of the Armed Forces, adding that sanctions against the country have not had the slightest effect on the country's defense sector.
In recent years, Iran has made major breakthroughs in its defense sector and attained self-sufficiency in producing important military equipment and systems.
Iran has so far designed and manufactured different indigenous missiles, including Sayyad-2, Khalij-e-Fars (Persian Gulf), Mehrab (Altar), Ra'd (Thunder), Qader (Mighty), Nour (Light) and Zafar (Triumph).
The Islamic Republic has also conducted several military drills to enhance the defense capabilities of its armed forces and to test modern military tactics and equipment.
Iran says its military might poses no threat to other countries, stating that its defense doctrine is based on deterrence.