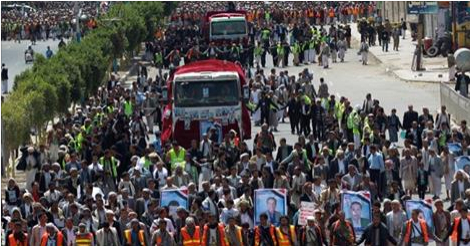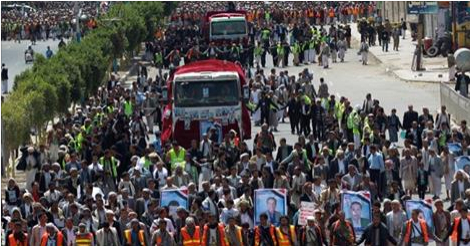 People pour to streets in the capital Sana'a to hold a massive funeral for the victims of the deadliest terrorist attack in Yemen's history by the ISIL Takfiris.
On Wednesday, the mourners chanted slogans against the militant group whose triple bombings against a pair of mosques left at least 142 dead and many others injured.
The ceremony, which turned into a demonstration, was mostly attended by supporters and fighters of the Ansarullah movement.
The March 20 attacks against the al-Badr and al-Hashoosh mosques, for which ISIL claimed responsibility, left 345 others injured during noon prayers.
The mosques are linked to the Houthi fighters who captured the capital last September, finally pushing President Abd Rabbuh Mansour Hadi to escape to the southern port city of Aden.
President on the run
Hadi's reinforcement attempts in Aden failed apparently forcing him to flee again, according to reports earlier on Wednesday, which said he had to leave his palace as angry protesters approached it, according to state-run BBC.
Meanwhile, Yemeni army forces allied with the Houthi movement's Ansarullah fighters took over the city's international airport blocking the way for Hadi to hit out.
The latest reports quoted Yemeni security officials as saying that he managed to leave the country on a boat, The Associated Press reported.
US unaware of Hadi's whereabouts
The latest comments by the US State Department, however, failed to specify the former president's whereabouts.
"We were in touch with him earlier today," spokeswoman Jen Psaki told reporters. "He is no longer at his residence, which you've seen in reporting… I am not in a position to confirm any additional details from here about his location. We have been in touch with him over the last several days."
Some Yemeni officials have categorically denied that Hadi has left the city.
Arab states 'military intervention'
Meanwhile, the Houthi fighters who were continuing their advance towards Aden, seized a key airbase only 60 kilometers (37 miles) from the city.
Riad Yassin, the foreign minister of Hadi's government, has called on the Arab states to stage a "military intervention" in the Arab world's poorest country.
"We will ask the upcoming summit for urgent intervention," AFP quoted him as saying in the Egyptian Sinai resort town of Sharm el-Sheikh, where the two-day summit of the Arab League will begin on Saturday.