Middle East
Syria
World News
Mass popular celebration in Ain al-Tineh marking 32nd anniversary of Open strike against Israeli occupation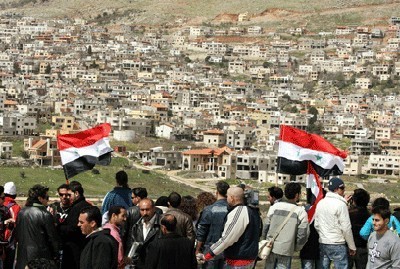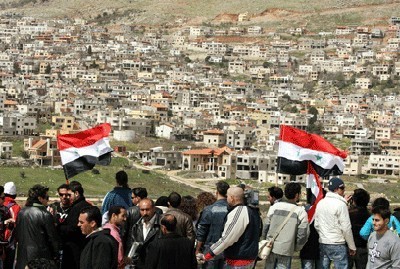 On the 32nd anniversary of the National general Strike in the Occupied Syrian Golan and the battle of defending the Syrian Arab identity, A mass popular celebration was held Friday in Ain al-Tineh near the occupied Syria Golan.
On Thursday, governor of Qunetira Maan Salah-Eddin and secretary of al-Baath Party branch Waild Abaza honored a number of plastic artists and sport champions who won medals in the Arab and regional competitions.
Syrian citizens of the occupied Syrian Golan, on February 14th 1982, marched through the streets of Golan in an open, general strike protesting Israeli occupation authorities' decision of annexing the Golan and imposing Israeli laws and identity on the Syrian citizens.
During the honoring ceremony, which was attended by the Head of the General Sports' Federation, Mowaffaq Jouma, the governor pointed out to the important role of Golan's artists to overcome the foreign-backed war to which Syria is exposed.
Salah-Eddin hailed the artists' stance in supporting the Syrian Army who confronts the armed terrorist groups which perpetrated a lot of massacres against the Syrians, lately the massacre of al-Dowaiyeh al-Sougra in Qunetira countryside.
For their part, the honored artists affirmed that their talents and innovation will be in one trench with the Syrian Army to restore security and stability to the homeland.
Meanwhile, Popular Committee for liberating Golan stressed that the citizens of the Occupied Syrian Golan will continue struggle to defeat the Zionist project in the region.
In a statement , the Committee affirmed the continuation of repelling terrorist forces and achieve liberation under the leadership of President Bashar al-Assad.
The Committee affirmed its full support to the Syrian Official delegation taking part in Geneva conference, highlighting the Syrian Army's sacrifices in confronting terrorists and defending the homeland.
It also saluted the steadfastness of the Syrian captives at Israeli occupation's prisons.
In the same context, and under the motto of "Golan inside our eyes", activities of the second cultural festival in Sweida province kicked off to commemorate the 32nd anniversary of the National general Strike in the occupied Syrian Golan and the battle of defending the Syrian Arab identity.
The activities included an exhibition for plastic arts in participation with 18 artists who embodied the environment of Golan t through their paints, in addition to traditional exhibition that presents handicrafts and folkloric embroideries of the province.
Member of the Executive Office at Sweida Municipality Council Bashar Nassar pointed out to the importance of evoking the sacrifices of Golan's citizens, the captives at the Israeli occupations' prisons and commitment to liberate the Occupied Syrian Golan and eliminating the armed terrorist groups around Syria.