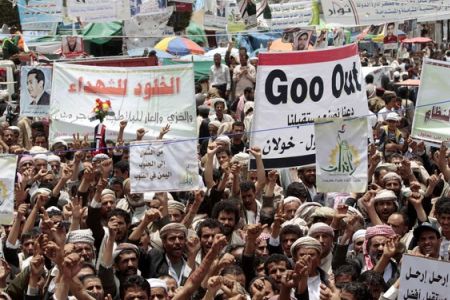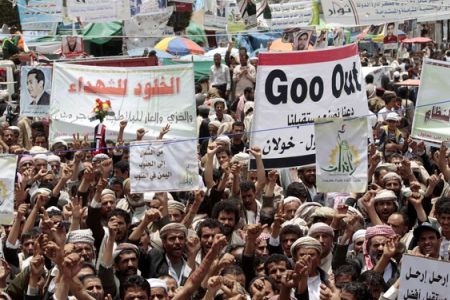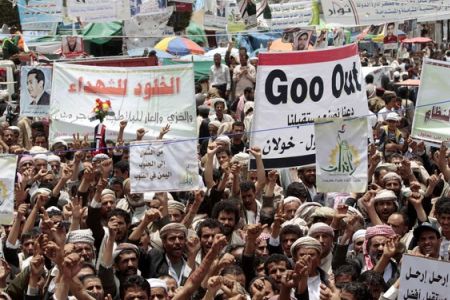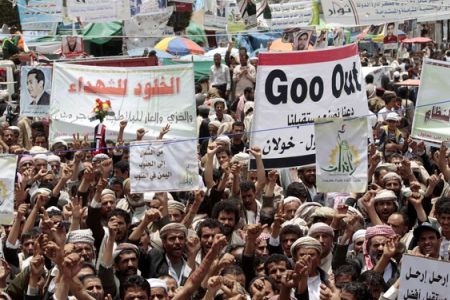 Thousands of protesters gathered in Sana'a's Change Square following the Friday Prayers to demand the Yemeni president's immediate ouster and his execution.
Yemeni President Ali Abdullah Saleh, however, has vowed to resist calls to quit as anti-government protests continue across the country.
The protesters hold Saleh responsible for the killing of hundreds of protesters during near-daily opposition rallies which began in late January.
Saleh's loyalists also gathered outside the presidential palace in the capital, Sana'a, just a short distance away from anti-government protesters, to express support for the embattled Yemeni president.
"I can assure you that I will resist," the Yemeni president, who has been in power for 32 years, told his supporters.
Saleh has repeatedly vowed to stay in power until the end of his term, which is to end in 2013.
While anti-government protesters gathered for what they called the "Friday for the loyalty of the people in the south," regime loyalists marked "Friday for security and stability."
There were no immediate reports of clashes between the two sides.
Massive anti-Saleh rallies were also held in the southern city of Taizz.
The fresh protests come as Saleh has spurned mediation efforts by Persian Gulf Arab countries, which offered him complete immunity from prosecution in return for stepping down.
According to local reports since the beginning of anti-Saleh demonstrations across Yemen, at least 300 protesters have been killed and many others have been injured during clashes with riot police and armed forces loyal to the unpopular Yemeni president.