Palestine
Massive march led by Bin Keiran in Rabat against Arab normalization with Slaughterer Israel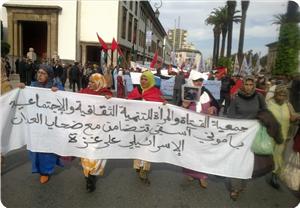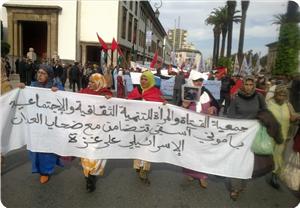 Tens of thousands of Moroccan people led by their premier Abdul-Ilah Abdulilah Bin Keiran went on a march on Sunday in the capital Rabat in support of the Gaza Strip and to demand an end to their country's ties with the Israeli occupation state.
Many senior leaders of Moroccan political parties and grass-roots organizations also participated in the pro-Gaza march.
Coordinator of the national action for the support of Palestine and Iraq Khaled Sufyani told Anatolia news agency that the march was very successful and tens of thousands responded to participation invitations, adding that other marches took place nationwide.
The pro-Palestine activist called on the Arab governments especially in Morocco to sever all forms of relations with the Israeli occupation state, take disciplinary actions against the Arab countries that accept to deal with the Zionists and revoke their peace initiative.
He called for Arab moves to support Palestine with weapons and make political pressures to have Gaza crossings opened.
In a related context, deputy head of the Islamic salvation front in Algeria Ali Belhaj congratulated the Palestinian resistance for the victory they had made against Israel's aggression.
Belhaj slammed in a press release the Arab regimes for only supporting Gaza with its financial and material needs and not with weapons.
"No blame is laid on the resistance and jihad factions in Palestine, for they have done everything they could within their abilities, but the blame should be put on the Arab and Muslim countries that buy weapons for tens of billions of dollars as it is the case in Saudi Arabia, Emirates and Algeria, while the US administration supply the Zionist entity with lethal weapons in broad daylight," he emphasized.
For his part, head of the Nahda Movement in Tunisia Sheikh Rashid Ghannouchi congratulated Palestinian premier Ismail Haneyya over the phone for the Palestinian victory over the Israeli occupation forces in Gaza.
Ghannouchi hailed the Palestinian resistance for the death defiance and courage they demonstrated in the battlefield and told the premier that the victory was a source of pride for the whole Muslim nation.
He said that the Palestinian revolution against the occupation was like the engine for the Arab Spring uprisings in the region.