Palestine
Massive participation in funeral of martyr Khalil Abu Obeid in Gaza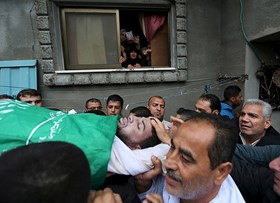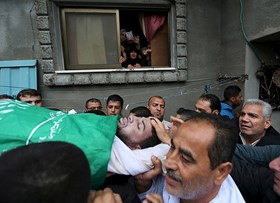 Scores of citizens on Sunday afternoon participated in the funeral procession of Khalil Abu Obeid, a 26-year-old young man from Khan Younis who died of a serious injury he had sustained in a recent pro-Aqsa protest east of the Gaza Strip.
The participants marched in the funeral from a Mosque in Khan Younis while chanting slogans against the occupation and calling for avenging the martyr.
Sheikh Ahmed Hamdan, a noted religious figure, gave a speech during the funeral and hailed Abu Obeid for his anger for the Aqsa Mosque and the great fortitude he had showed during his suffering from the injury.
Khalil Abu Obeid died on Saturday after he succumbed to an injury he had sustained during recent clashes between young men and Israeli soldiers east of al-Bureij refugee camp in Gaza.
Abu Obeid had suffered health complications that led later to his death after an Israeli tear gas canister was surgically removed from his body.