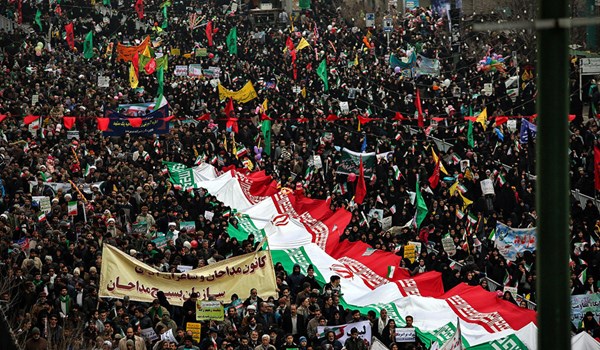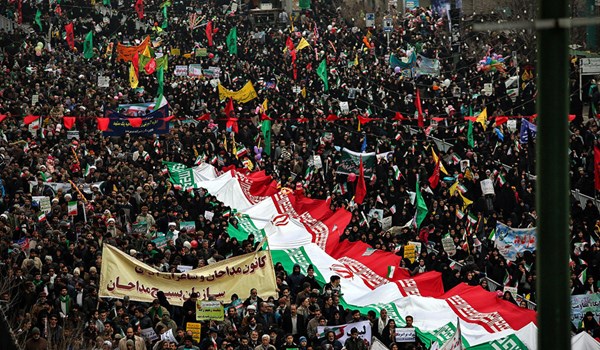 The annual nationwide February 11th rallies marking the 39th anniversary of the victory of the Islamic Revolution were staged in the capital city of Tehran and other cities across the country on Sunday morning.
Millions of Iranians from all walks of life are out in the streets and squares all over the country to express their support for the cause, aspirations and ideals of the Islamic Revolution.
In Tehran, hundreds of thousands converged at Azadi Square, Tehran's main square and the site of major national rallies over the past four decades.
In addition to the annual theme of renewing support for the revolution and Islamic establishment, this year rallies are important after the propaganda launched by the western media against Iran after the recent economic unrests in the country.
Yet, what has made this year's rallies even more important is the call by the high-ranking Iranian officials on people to give a crushing response to the recent threats of US President Donald Trump by staging massive rallies even larger than ever.
The rallies this year are covered by over 6,000 reporters and photojournalists, including hundreds from other countries.
Led by the Founder of the Revolution, Imam Khomeini, Iranians confronted the forces of US-proxy Mohammad-Reza Pahlavi in late 1977 to end his oppressive, cruel and autocratic rule over the country.
By December 1978, millions of Iranians would take to the streets in protest against the policies of the Shah on a regular basis.
Grand Ayatollah Ruhollah Khomeini returned from exile to Iran to be received by millions of cheering crowds after the departure of the Shah in mid-January 1979. Two weeks later, the country saw the victory of the Islamic Revolution.
The final collapse of the Shah's regime came on February 10 when the military renounced its loyalty to the Shah and joined the revolutionary forces.
On this day 39 years ago, people took to the streets to celebrate the collapse of the Pahlavi Dynasty and the emergence of the new era.