Europe
May driving UK towards 'no-deal cliff-edge': Sturgeon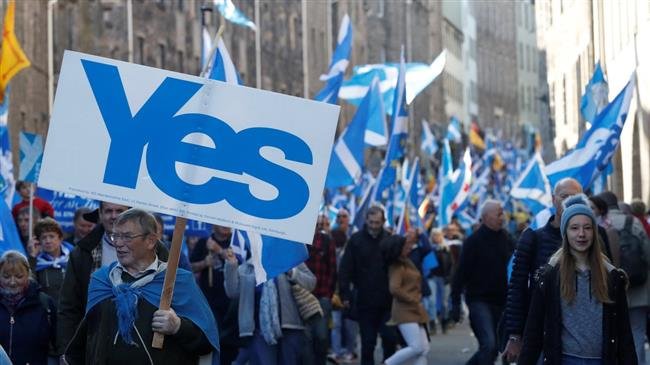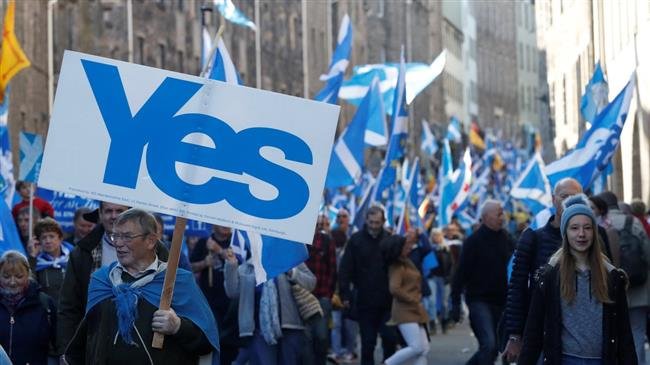 Scottish First minister Nicola Sturgeon has warned that UK Prime Minister Theresa May's Brexit policy is pushing Britain towards a "no-deal cliff-edge" as the deadline for the country's pending exit from the European Union (EU) nears.
Sturgeon ripped into May's Brexit plans after meeting with her on Wednesday, warning that the PM was pushing the country towards a disorderly exit from the EU by putting Brexiteers' interests above cross-party consensus.
"To be frank, there wasn't much indication that the prime minister is listening to, or hearing, the concerns of the people of Scotland and no doubt across the UK about trade and the economy and population," Sturgeon told reporters outside of 10 Downing Street.
The prime minister's handling of Brexit has drawn much criticism from dozens of so-called "rebel" Tories as well as members of the Democratic Unionist Party (DUP) who helped May keep parliamentary majority after an embarrassing general election defeat last year.
Both the rebels and the DUP MPs voted against May's plans, arguing that it violated Britain's sovereignty by giving in to EU's demands on the border between Northern Ireland and Ireland.
"It seems to me that her priority is trying to win support from the DUP and the hardline Brexiters in her own party, rather than genuinely trying to compromise to bring others onside – and that strikes me as a course of action that is destined to fail," Sturgeon said.
Scotland and Northern Ireland both voted against Brexit in the 2016 EU referendum while the other two devolved nations, England and Wales voted in favor of the divorce.
The UK government had originally canceled Brexit talks with Scotland and Wales. The decision came after an earlier call by May on all constituent countries to partake in cross-party meetings prompted by the embarrassing defeat in Parliament of her EU deal.
Dozens of UK ministers could resign if May doesn't allow the to vote against a plan that block a no-deal Brexit, reports suggest.
May 'running scared' over new Scottish independence plans
Last week, Sturgeon told the Scottish parliament that she was preparing to set out plans for a second independence referendum "in the coming weeks."
On Wednesday she doubled down on the Scottish National Party's "cast-iron" mandate to hold a new independence referendum, after the first one failed in 2015.
"Theresa May fears she would lose an independence referendum and is clearly running scared of the verdict of the Scottish people, who must be sick and tired of being told what the prime minister wants," she said. "Frankly, what Scotland needs is much more important than what the prime minister wants."
A new poll shows majority of Scots would rather leave the UK than accepting a no-deal Brexit.
Last week, lawmakers roundly rejected the deeply contested divorce deal that May had clinched with the EU in a 432 to 202 vote, giving May only three working days to come up with a Plan B.
The crushing loss marked the collapse of her two-year plan of forging an orderly divorce with close ties to the EU after the March 29 exit.
The defeat prompted Labour leader Jeremy Corbyn to table a no confidence vote but the effort fell short in a relatively narrow 325-306 vote.
After surviving the crucial vote, May said she had already held meetings or was scheduled to meet with other party leaders.
"So now MPs have made clear what they don't want, we must all work constructively together to set out what Parliament does want," she said then.
Sturgeon tweeted at the time that she was "very skeptical" about the premier's commitment.