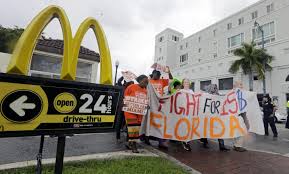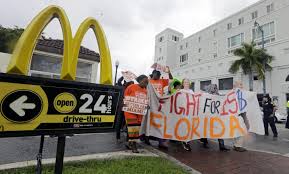 Workers at McDonald's Corporation are suing the fast food giant over workplace hazards in 19 cities across the United States.
The workers filed complaints, announced on Monday, with US Occupational Safety and Health Administration in recent weeks, the Associated Press reported.
The move is part of the "Fight for $15" campaign spearheaded by the Service Employees International Union for the past two years.
The complaint details several workplace hazards including lack of protective equipment such as gloves to handle frying pans, which has led to injuries, among other things.
After being burned, one worker was told by the manager to "put mayonnaise on it, you'll be good."
According to Kendall Fells, organizing director for Fight for $15, said the injuries are caused by understaffing and forcing the employees to work too quickly.
McDonald's responded to the move by issuing a statement, which claimed that the staff are provided with a safe condition.
"It is important to note that these complaints are part of a larger strategy orchestrated by activists targeting our brand and designed to generate media coverage," Heidi Barker Sa Shekhem, a McDonald's spokeswoman, said in the statement.
The central demand of the campaign against the company is to win pay of $15 an hour and unionization for fast-food workers.
McDonald's is the world's largest chain of hamburger fast food restaurants and serves some 68 million customers daily in 119 countries.