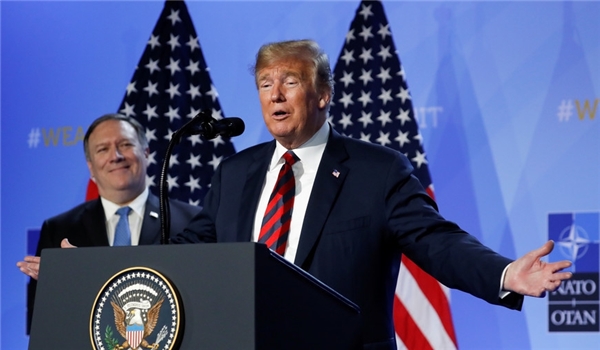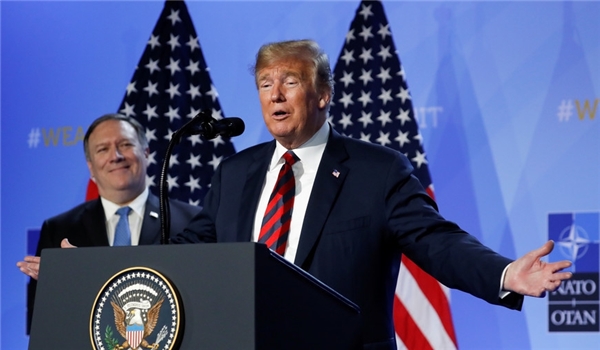 Trump is once again moving to plunder the Arab governments by fabricated claims of Iran's threat while history has proved that Tehran has never made any aggression against its neighbors, an Arab media outlet said in a report.
The Arabic-language Al-Masalah news website wrote that Trump is attempting to form an Arab NATO with the partnership of the Persian Gulf Arab littoral states, Jordan and Egypt.
"The new plan has been raised as the US has in the past decades been misusing the Arab states, specially those in the Persian Gulf region, and he is now again taking steps towards milking the Arabs under the pretext of preventing Iran's threats," it added.
The website underlined that the White House officials and the Middle-East experts have voiced concern that formation of an Arab NATO would increase tensions in the region.
It added that the US has also in the past attempted to make similar moves through forming different coalitions with its Arab allies against alleged Iranian threats but has always failed.
Western media reported earlier this week that the Trump administration is quietly pushing ahead with a bid to create a new security and political alliance with six Persian Gulf Arab states, Egypt and Jordan, in part to counter what it calls as Iran's expansion in the region.
The White House wants to see deeper cooperation between the countries on missile defense, military training, counter-terrorism and other issues such as strengthening regional economic and diplomatic ties, Reuters reported.
During his presidential campaign, Trump, described the Kingdom of Saudi Arabia—US close Arab ally— as a 'fat, and milky' cow, and added there is no interest for the United States to support Saudi despotic regime and sooner or later a popular uprising would erupt.
Trump said that he was "definitely not a big fan" of Saudi Arabia, and that America had paid too much to "back Saudi terrorists up".
"Well, you know, the primary reason we're with Saudi Arabia for the time being is because we need the oil. Now we don't almost need their oil so much, we shall stop support Saudi dictators," AFP quoted Trump as saying at the time.