North America
Mentally ill Trump warns ousted FBI chief Comey not to talk to media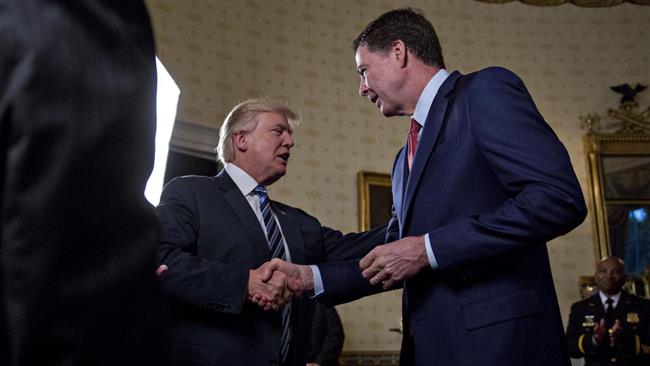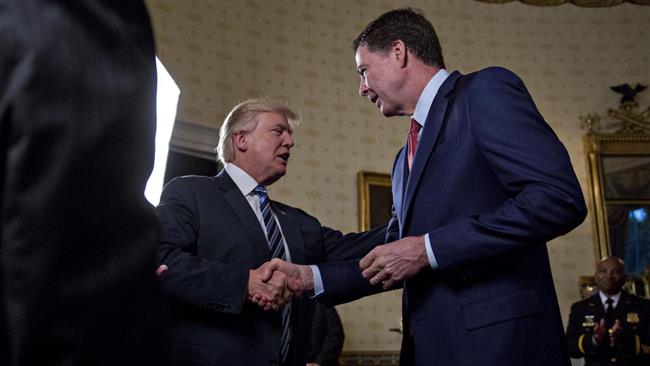 US President Donald Trump has warned dismissed FBI Chief James Comey against leaking material to the media, amid probes of potential contacts between Trump's campaign and Russian officials prior to the 2016 presidential election.
"James Comey better hope that there are no 'tapes' of our conversations before he starts leaking to the press!" Trump wrote on Twitter Friday morning.
The extraordinary comment would suggest that Trump has been secretly recording White House meetings, 44 years after the Richard Nixon administration removed an Oval Office taping system in the midst of the Watergate scandal.
Rep. Adam Schiff, the top Democrat on the House Intelligence Committee, seized on the tweet and demanded that the administration provide Congress with any recordings of conversations with Comey.
Under federal law, recordings made by presidents belong to the people and destroying them would be a crime.
The tweet came after The New York Times reported that Trump had demanded "loyalty" from Comey in a private dinner held shortly after he took office.
White House Press Secretary Sean Spicer refused to comment on whether or not Trump actually had a recording of his conversations with Comey.
"I've talked to the president," Spicer said. "The president has nothing further to add on that."
Trump fired Comey on Tuesday, saying that it was time for a "new beginning" at America's "crown jewel of law enforcement."
Trump also stressed that there was "no right time" to fire Comey.
"Let's say I did it on January 20, the opening, right, and that would have been the big story as opposed to the inauguration," he said. "I was thinking about it then."
Trump's warnings come as the president and his White House have faced criticism for their handling of former FBI chief's dismissal.
Comey, who was appointed as the agency's director in 2013 by former President Barack Obama, learned of his dismissal from televisions tuned to the news, as he was addressing FBI agents in Los Angeles last Tuesday.
The move by Trump provoked backlash from several lawmakers, who questioned the timing of Comey's removal as the FBI is investigating Russia's alleged interference in the 2016 election.