Europe
Merkel to visit Zionist Entity in February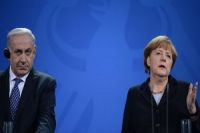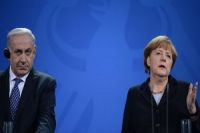 German Chancellor Angela Merkel is expected to visit the Zionist Entity next month at the invitation of Prime Minister Benjamin Netanyahu.
According to Press TV, Steffen Seibert, the spokesman for the German government, said on Thursday that Netanyahu had a telephone conversation with Merkel, inviting the "German government for talks at the end of February which must take place in the Zionist Entity this year."
The Zionist Regime prime minister also congratulated Merkel on her election for the third term, Seibert also said, adding that Netanyahu wished the German chancellor a speedy recovery after she fractured her pelvis in a ski accident earlier this week.
The visit would be the first for Merkel's new government, which is a coalition of the Social Democratic Party (SPD) and Merkel's Christian Democratic Union (CDU).
Germany has been a supporter of the Zionist Regime, although Berlin has recently increased pressure on Netanyahu to show restraint in constructing illegal settler units in the occupied Palestinian territories.