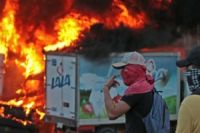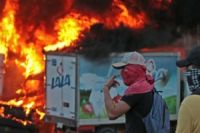 Thousands of protesters have taken to the streets in Mexico to demand justice for the 43 missing students feared to have been massacred by cartel gangsters.
Angry mobs of demonstrators brandishing sticks, pipes and stolen riot police gear marched through Chilpancingo, the capital of the southern state of Guerrero, on Friday, Press TV said.
On September 26, 43 students, all trainee teachers, disappeared in the city of Iguala in Guerrero state following an attack by police forces suspected of having links to drug gangs. The incident took place during a protest rally over teachers' rights.
Violent protests have erupted in the country since Mexican officials announced last week that members of the Guerreros Unidos drug cartel had confessed to killing the young men and burning their remains after receiving them from corrupt police forces.
During the Friday protest rally in Chilpancingo, some demonstrators carried pictures of the missing trainee teachers, saying the perpetrators of the recent crime must not go unpunished.
On Thursday, families of the missing students launched a protest tour across the country, rejecting government claims that their sons have been murdered by drug gang members and calling on Mexican authorities to find them alive.
The recent protest comes as the government is waiting for DNA test results of remains that were sent to forensic specialists at Austria's University of Innsbruck earlier this week.
Mexican President Enrique Pena Nieto has promised the families of the students that justice will be served in the case.