North America
Mexico police detain 14 students amid violent protests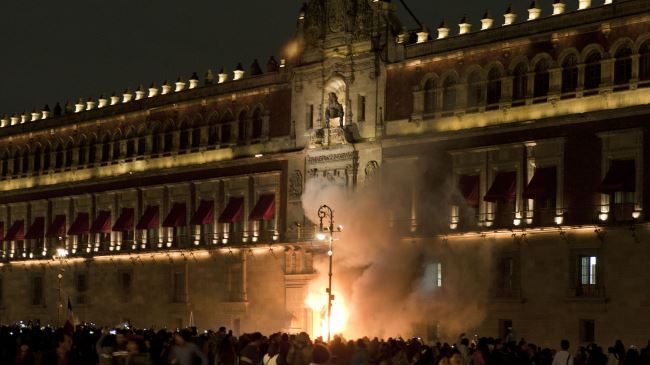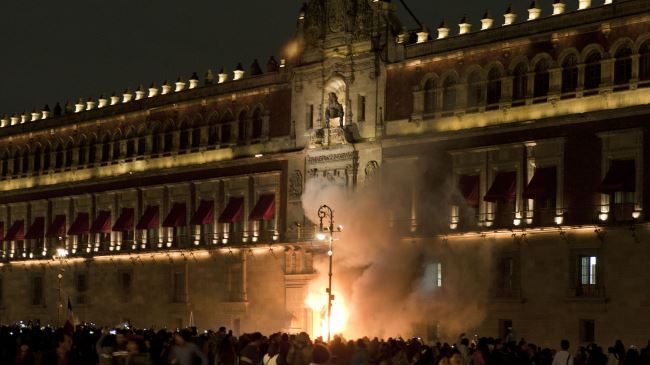 Mexican security forces have detained over a dozen students after a large protest rally over the suspected murder of 43 fellow students turned violent in the capital, Mexico City.
Riot police arrested 14 students late on Saturday when the outraged demonstrators tried to break into the National Palace in Mexico City, using metal barricades as battering rams.
The protesters also set the main door of the building ablaze and spray-painted the words "We want them back alive!" on its walls, referring to the missing students.
On the 26th of September, 43 students, all trainee teachers, disappeared in the city of Iguala in the southern state of Guerrero following an attack by police forces suspected of having links to drug gangs. The incident took place during a protest rally over teachers' rights.
The recent protest in Mexico City came after authorities said three detained gang members had confessed to the killing of the students and burning their bodies.
The gang members have claimed in their confessions that the police had handed over the students to them, Mexico's Attorney General Jesus Murillo Karam says.
Karam has also stated that Mexican authorities will continue to consider the students as missing until their identities are confirmed by DNA tests.
Earlier on Saturday, hundreds of students took to the streets in Guerrero's capital, Chilpancingo, to voice their outrage at the government's handling of the murder case.
The protesters in Chilpancingo hurled firebombs and stones at state buildings, chanting "They took them (43 students) alive, we want them back alive!"
Parents of the missing students say they must be shown hard proof before they believe that their children have been killed by gang members.
On November 5, tens of thousands of people took to the streets in Mexico City to protest against the government's inability to find out the fate of the missing students.