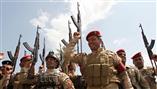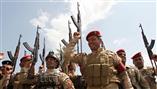 The recent gains achieved by the Iraqi army against ISIL have ruined the United States' plan to stay in Iraq, says an expert, Press TV reports.
Zayd al-Isa, a Middle East expert from London, said in an interview with Press TV that the Iraqi army gains "are highly substantial and significant."
"It is important to mention that those gains are actually being achieved single-handedly by the Iraqi forces and the volunteer forces, which make up the backbone of the Iraqi security forces," he stated.
Isa also said that "those achievements are major achievements which have rattled and shaken the fundamental plan of the Americans."
The expert argued that "the Americans have been less than enthusiastic with their airstrikes," adding that "they actually want to maintain and contain ISIL."
"The overarching goal of the Americans is to have boots on the ground because they know that their influence in Iraq dramatically dwindled after they withdrew from Iraq," he said.
Isa concluded that "now the objective by the Americans and pushed very hard by the Saudis is actually to carry out a major overhaul of the Iraqi security forces and to dismantle the volunteer forces."
The Iraqi army has gained more ground in its fight against the ISIL Takfiri terrorists after liberating another part of the country in the north.
Government forces backed by Shia volunteers have cleared the Naba'ai region in the northern province of Salahuddin.