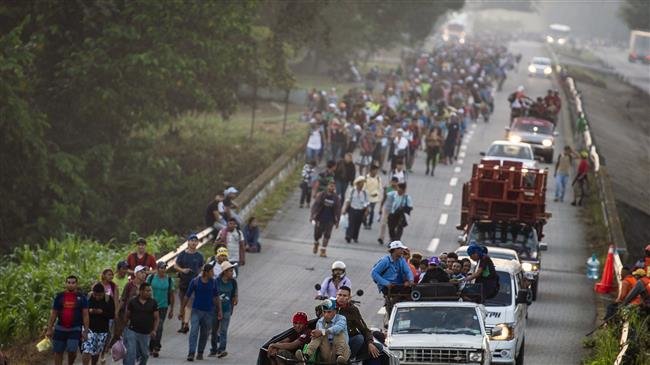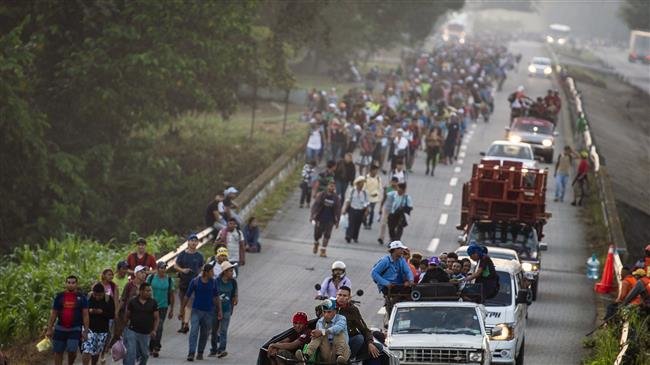 A caravan of thousands of migrants from Central America continues to make its way toward the United States despite Mexican efforts to hinder its advance under US pressure.
The caravan, which was formed about two weeks ago in northern Honduras and which has been moving at an average speed of 30 to 40 kilometers a day, was still a long distance from the US border on Saturday.
It was moving nonetheless.
US President Donald Trump has pressed Mexico to prevent the caravan from reaching the border.
Under US pressure, Mexico has reportedly offered temporary work permits and prospectively other benefits to the caravan members on the condition that they remain in the country's southern states.
Shortly before dawn on Saturday, more than a hundred federal police dressed in riot gear briefly blocked a rural highway in southern Mexico to encourage the migrants to apply for refugee status in Mexico rather than continuing north-bound.
Last Friday, police reportedly clashed with the caravan members as they stormed and overran a river crossing along the Mexico-Guatemala border.
Meanwhile, Trump has ordered the deployment of US troops to the US-Mexico border to prevent the caravan from entering the US.
Trump has made his hard-line stance on immigration an integral part of his presidency and has promised to build a wall along the US-Mexican border to curb the flow of migrants from Mexico and Central America.
He has vowed that if his party maintained the House majority in the upcoming congressional elections scheduled for November 6, he would change US laws so as to stop illegal immigrants from entering the country.
Some critics say the attention given to the caravan by the Trump administration is a scare tactic used to gain votes for the Republicans.